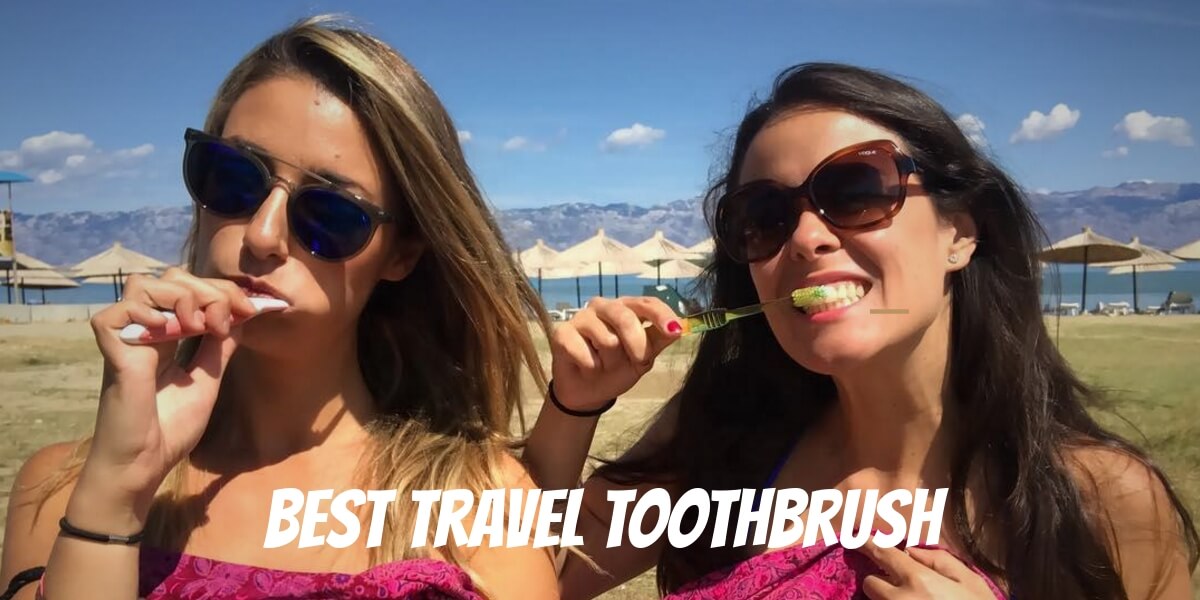 The Best Travel Toothbrush: Foldable and Electric in 2021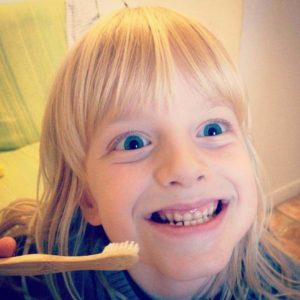 Traveling is a great way to meet new people, widen your horizons, and enjoy all the beauty that the world has to offer. However, if you want to get the most out of your trip, you cannot forget to take care of your teeth.
You surely don't want to meet brilliant people and then leave a bad impression on them, just because you didn't brush your teeth? On the other hand, having a bright smile and fresh breath is a sure way to impress anyone around you, in whatever part of the world you happen to be.
We know that taking care of your dental hygiene while traveling is a bit tricky, so we bring you this short guide to help you choose the right toothbrush to be your companion wherever you go.
A Traveler's guide to Toothbrush
With all those options out there, choosing a good toothbrush that won't disappoint is definitely not an easy task. So, here are some things you should pay attention to when buying the best toothbrush for your teeth.
Size
A travel size toothbrush will be very compact and lightweight. Some travel toothbrushes are foldable.
Is it easy to carry?
First of all, your toothbrush should certainly be a breeze to pack. Meaning, it won't take up a lot of space in your toiletry bag and it will be at hand so that you can take it out whenever you need to clean your teeth. Therefore, a good travel toothbrush should be foldable and of convenient size.
Manual or electric?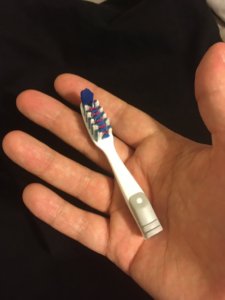 Break your regular toothbrush to save space.
When it comes to types of toothbrushes, you can choose between manual and electric one.
A manual toothbrush is a good choice for those who don't want to bother with batteries replacement. Moreover, if you don't travel that often, these are better options, since they are less expensive than electric ones.
On the other hand, an electric toothbrush will outperform a manual one, when it comes to cleaning your teeth. An electric toothbrush is also a better choice if you travel on a regular basis since it will pay off in the long run as it usually comes with extra brush heads that you can replace.
Does it come with a case?
Some travel toothbrushes come with a case, to keep them clean all the time, and so that you won't lose them. However, these can take a bit more space than those that are compact and foldable. So, whichever one you choose, choose according to your bag's size.
Best Travel Toothbrush
Colgate Value Travel Toothbrush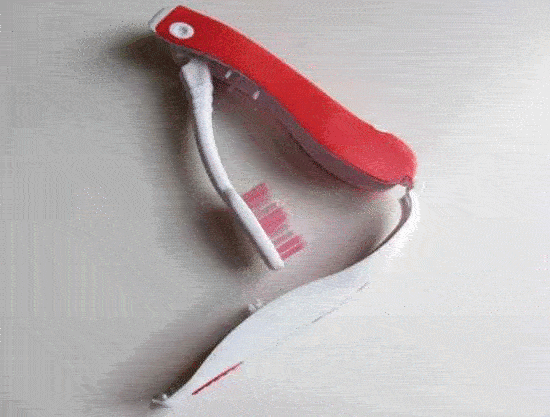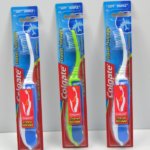 This travel toothbrush from Colgate will become your travel partner, for sure. This manual travel toothbrush takes up very little space since you can fold the head entirely into the base of the toothbrush.
The base comes with breather air holes, to enable your toothbrush gets completely dry and prevent bacteria growth. There is also a cover that will keep the bristles clean.
One minor problem with this toothbrush we faced was that sometimes it was hard to open it when it was folded.
Best Travel Electric Toothbrush
Violife Style Slim Sonic Electric Travel Toothbrush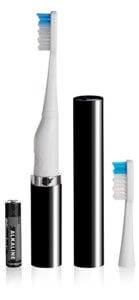 Do you prefer sonic toothbrushes? Then Violife Slim Electronic Toothbrush should be your first choice.
Do you like clean mouth and fresh breath? Its cleaning mechanism has both quality precision and strokes quantity.
This electric toothbrush with travel case comes with replaceable brush heads and a waterproof battery compartment. It's easy to use and store, and will help keep your dental hygiene at a high level.
Which Travel Toothbrush did you like?
So, there you have it – tips on how to choose the best travel toothbrush and make your journey as bright as possible. Keep in mind features we've mentioned and you won't have any problem with choosing a good electric or non-electric travel toothbrush.
If you would like to keep your existing toothbrush, you could also buy toothbrush travel case.
Written By Noah Smith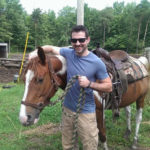 Noah is a freelance writer who has traveled over 32 countries so far. Onebagger is the place where he shares trip details, travel itineraries, planning and booking tips and travel tales. His aim- to help you plan your travel adventure on your terms, choose best travel gear and to your budget.