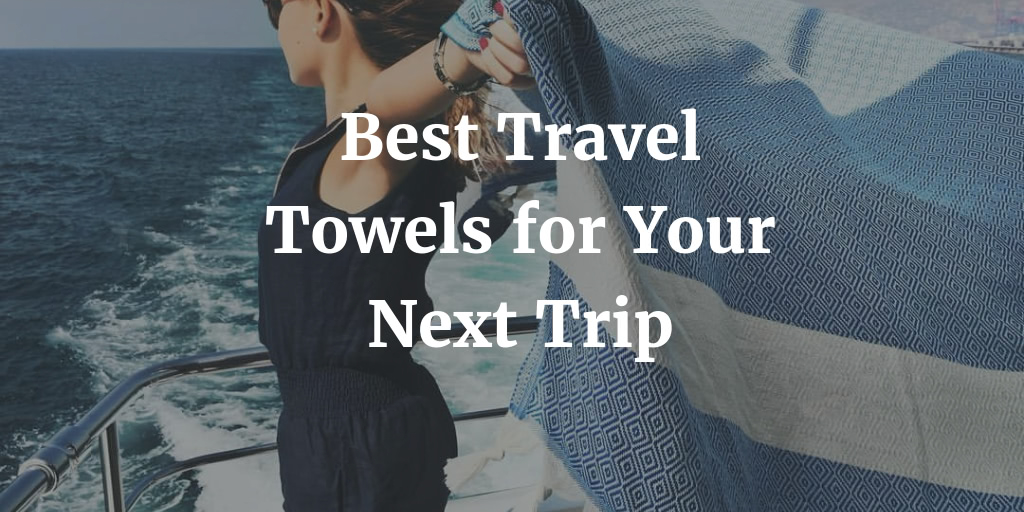 The Best Travel Towels You Need to Take on Your Trip in 2021
Unless you are staying at a high star hotel, you don't really need to worry about bringing a towel. However, if your accommodations include you staying at a guest house or a hostel, then bringing a towel is a good idea.
Bringing the ideal towel with you means plenty of researching and figuring out what you may use it for because let's face it, the added bulkiness can be a challenge if your suitcase is already practically at maximum capacity.
Why I Take a Towel on my Trips?
There are many reasons why I take a towel on a trip with me, and you should too.
There are many Use Cases for Towels
Towels have multiple uses like drying dishes or tent, as a travel pillow, wiping sweat while hiking, etc. I have seen people use dry towels as a scarf, night time head wrap on cold nights, koozie for their food bags, and as pareo/sarong.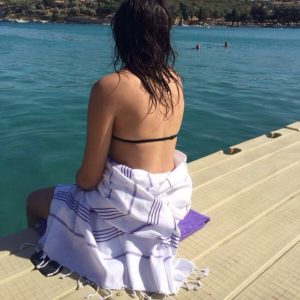 Crappy Accommodations
Once while backpacking Guatemala, I had to stay in a hotel in some remote area. On request for a towel, I was offered a piece of cloth that l would consider a dish towel. It was pretty gross and looked like it would crack in half from lack of washing. I chose to use my bandana to wipe myself.
You're a Germaphobe
If you're someone like me who hates germs and cringes at the thought of using hostel or hotel towels that have been rarely washed, if at all, then a travel towel is best for you. You'll feel safe knowing that you have your own personal travel towel to use, that you know where it's been.
Are you Traveling to a Wet Destination?
If you're traveling somewhere that includes plenty of beaches to frequent rains, such as Mexico, or a place that has a lot of rain in the forecast, such as the United Kingdom, then a travel towel is an ideal item to have in your luggage.
How to Choose a Travel Towel
You need to look for multiple things in a towel and then make the best selection based on the points below.
The Material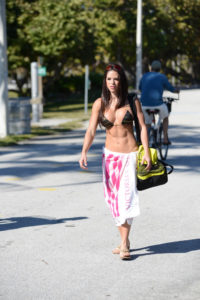 Synthetic materials and polyester are great for drying quickly, but they are terrible when it comes to odor resistance.Your regular cotton towel is going to start smelling really bad and will sure get moldy after a while on the trip.
These types of materials are literally breeding grounds for bacteria and the like, and you may not always be able to wash them as frequently as needed on your trip, so why bother? Get a material that does not need to be washed every couple of times you use it. Not to mention polyester does not absorb very well, it only pushes the water out of the way.
The towel must dry quickly enough that they don't give bacteria and fungus that require a damp place to make a living much time to multiply their numbers.
Linen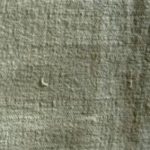 In fact, the best material to go for hands down is linen. Pure linen is exactly what you want in a travel towel. It's incredibly absorbent, anti-bacterial, and dries lightning quick so no bad smell.
Linen is bulkier than alternatives but their advantages outweigh other alternatives because they fold up so thin, they don't take much space. Linen is slightly rough at the start but smoothen up fairly quickly and become very comfortable to use.
Is Linen Fiber a good Choice for Clothes?
Microfiber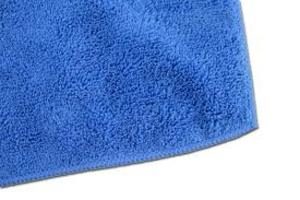 You could also try Microfiber towels. They're also quick drying and very compact. They are softer than linen and towels with waffle texture are more smooth and dry faster.
One issue I found with Microfiber is that they were not drying quickly in humid weather(other towels would also have dried slowly). Microfiber also started to stink if they were not dried properly or washed occasionally.
Some people also don't like microfiber as they catch on everything and don't feel nice. If you are one of them, you can try suede microfiber towel. They feel much better.
Peshtemal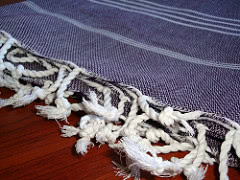 Another good alternative is Peshtemal (Turkish Towels). A Peshtemal fiber is lightweight, quick-drying woven cotton. They travel really well. They also dry very fast, don't smell and pack fairly compact. These come in attractive patterns and are long enough to double up as emergency blanket/skirt/scarf/shawl.
Other Materials
Other alternative materials you can consider are bamboo fiber or shammy.
Portability
Portability is extremely important when it comes to choosing a travel towel. For example, your luggage is already packed to the teeth, but you have yet to add a travel towel. What can you do? Polyester, alongside most materials, is too big and bulky to fit into a small section, so looking for a travel towel that is portable and folds up nicely is your best bet.
Thinner materials, such as linen, fold incredibly nicely, and some brands even offer a special travel bag for it to save space. They are larger than regular towels but pack down to the size of a rolled-up newspaper.
Design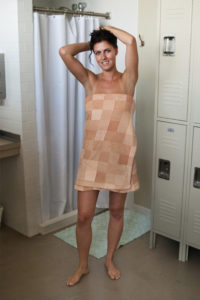 The good thing about travel towels is that they have different designs for different purposes. For example, you need a travel towel that is better for beach use, meaning you need one long enough to fully stretch out on, as well as one that is portable, durable and dries quickly. There are travel towels that will accommodate literally every type of trip, and all you have to do is find the one best for your type of trip.
Absorbency
A travel towel that is very absorbent is better, especially if you are planning on moving around a lot for the duration of your trip. Choose a material that has the best absorbency available, such as linen.
Size
Size is a very big factor here. Do you need something for the beach, or just for showers here and there? Deciding the use for your travel towel is a big part in choosing the best size for you, so ensure that you have plans for what you will be doing with it.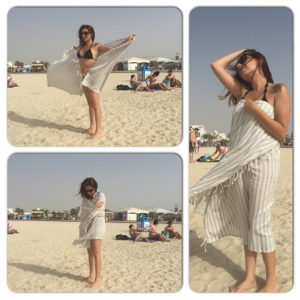 Using Turkish Towel as Sarong at the beach
A rule of thumb would be to take small size towel when backpacking in wild (carrying it most of the time). Otherwise if on urban trips(beaches, cities) then consider full-size towel.
Comparison of Linen vs Peshtemal
| # | Linen | Pestemal |
| --- | --- | --- |
| Packability |  Linen is less packable due to its waffle/grid texture. |  More packable |
| Odor control |  Doesn't smell much because it dries quickly |  Better than pure cotton or synthetics. |
| Piling |  Due to tough texture, linen pills more |  Less than linen |
| Durability |  More durable |  Less durable |
| Multi-Use |  Rugged use |  More comfortable and looks better |
The Best Travel Towels
I did a ton of research to find some of the best travel towels available today. Each of these is made up of different material, brand, and use case to ensure that there is anyone one is perfect for you and your trip.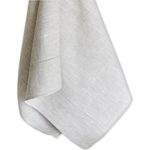 This a great linen towel that is hard to beat. It has better hand feel, dries body and itself easily. On top of that, it doesn't smell after prolonged use and is a great value for the price too.
This definitely packs slightly larger than others. One of the advantages of its big size is that depending on where you're traveling, it can double as a beach blanket or a shower towel.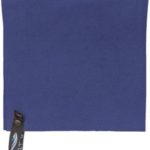 This is a great Microfiber towel. It absorbs a lot and dries very quickly too. It also packs up super small and has a very affordable price.
Even though it's very small in size, it is very absorbent and it regains its absorbency just by rinsing it out, so you can keep on using it until you're dry enough.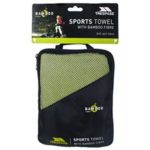 This is a great travel towel for those who want a natural option made from natural bamboo fibers.
It's small, has a comfortable, recognizable feel, and is 100% anti-bacterial to ensure no mold or odors develop for the duration of your trip.
It comes with its own storage pouch for compact storage and ease of use, too! Great for backpackers who don't have a lot of room in their backpack left.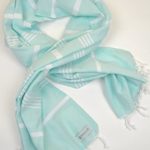 You can also try Turkish Peshtemal towels as an alternative microfiber or linen towels. They are very versatile and offer great value for money.
These towels are also quick drying and pack compact. They also come in many patterns.
Finding the Best Travel Towels
As you can see, there are so many different options to choose from when it comes to finding the best travel towel for your trip.

Based on where you are going, the weather conditions, activities and things to do there, and what your preference is for a travel towel, finding the best one for you and the location you are going to is fairly easy.

Whether you want a regular beach towel or something extraordinary, you definitely have options!
Written By Kate Mark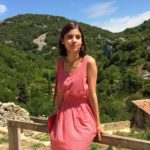 Kate is a mid-lifer who quit a growing corporate career to reawaken her passions and her lifelong dream of traveling the world.