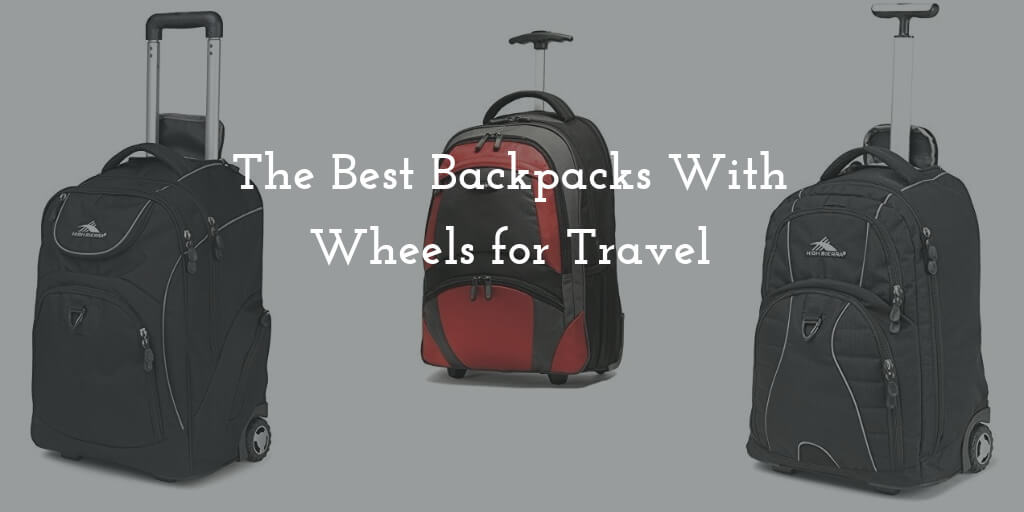 The Best Backpacks With Wheels for Travel in 2022
Traveling is an essential part of a healthy lifestyle; after all, we all need to cut loose after a while. That's why it's important to own a high quality, trustworthy backpack as a travel companion.
This article will help you find the best travel backpacks with wheels, so keep reading!
Why go for Traveling Backpacks with Wheels?
Well think of it like this: why carry heavy luggage when you can wheel it?
Sure, backpacks look cool, but they're very inconvenient for travel since you have to keep the weight on your back all the time. Whereas, with wheeled backpacks, you can walk normally and freely, without having to do so much but keep a firm grip on the handle.
You might opt for the traditional suitcase, but a matter of fact is that they get thrown around a lot, and nobody pays much attention to caring for them, hence why they often end up damaged. Plus, they're rather bulky and take up a lot of space.
Backpacks with wheels for travel seem to be the most convenient and elegant solution to those frivolous problems.
You should look for a wheeled backpack with:
An Internal frame
Most backpacks today have this feature because it makes the backpack lighter and more durable. In the olden days, the frame used to stick out from the backpack and that made it look and feel awful, so an internal frame is what you'd want.
Waterproof material
The backpack doesn't have to be a hundred percent waterproof, but the surface should be good at keeping rain away from the contents inside. The material should also dry quickly. You surely wouldn't want to get your valuables damp!
Zippers that can be locked
Lockable zippers are important so nobody steals anything you have, but more so to ensure nobody puts anything in your bag. It's a lot safer to travel when you know your stuff is well secured.
Multiple compartments
They're a good way of avoiding clutter- it's much easier to get what you need when your stuff is divided into smaller sections.
The Best Backpacks with Wheels for Travel
High Sierra Freewheel Wheeled Backpack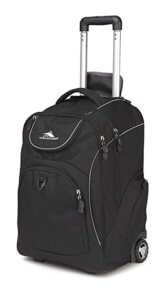 It's made out of a combination of fabric and nylon, meaning it's bound to stay dry if you get caught in the middle of a downpour. The backpack is divided into multiple, large, accessible compartments, one of which is meant for storing your laptop. It's also equipped with a special, small compartment for your headphones, and another one for bottles of water or juice you might want to bring. The wheels are mounted at the corners and turn smoothly. As far as the handle is concerned, it can be hidden away, but otherwise, falls under the category of telescoping handles. A wide array of colors and designs is available so your backpack can stand out from the black and gray ones, but you can get one of those as well if you prefer keeping it classic. It also features a** triangle clip so it can be locked**, or you can attach other accessories.
Pros
Thick durable material and zipper
High quality, quiet wheels
Very large and comfy
Lots of compartments
Looks stylish
Cons
The handle isn't very sturdy
The handle doesn't extend to the full height.
Samsonite Wheeled Backpack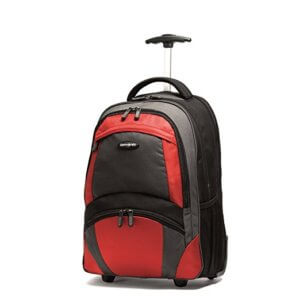 Samsonite is famous for making high-quality bags, backpacks, and suitcases- this backpack with wheels for travel is no exception.
Made from ripstop** nylon and lined with nylon, it is resistant to pulls and tears**.
Furthermore, instead of absorbing rain, and water in general, it just let it slide to the ground with no issues.
If you're looking for a travel bag with wheels and backpack straps, you'll be happy to know that this one has both smooth, in-line, well-turning, skate wheels, and comfortable straps accompanied by a padded back panel.
It features an ice-pick pull handle which is lightly wrapped with rubber so as to provide a better grip. It's also full of compartments fit for everyday things, as well as all pieces of modern technology of all types, proven by the padded laptop compartment it has.
For proper care, always wash it by hand.
Pros
Great quality
Competitive price
Durable wheels
Big, comfortable shoulder straps
Easily graspable handle
Fits under the plane seat or overhead bin
Lots of compartments
Cons
A bit heavy
The handle is a tad unsteady over curbs
High Sierra Powerglide Wheeled Backpack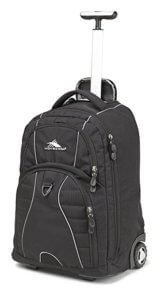 This traveling backpack with wheels was designed with multiple compartments which fit everything from laptops, tablets, books, to water bottles, headphones, and phones.
The computer zone is fully cushioned, and the large, zippered compartment is equipped with an organizer. That means, it has a zippered pocket, media pocket, and multiple open pockets, as well as a removable key fob.
Mounted at the corners, the wheels roll smoothly and tackle all terrain. Instead of the handle basically being a stick, this one is U- shaped (double-tube telescoping handle), and padded with a comfortable vapel** mesh, which makes it easier to hold and navigate. The handle is also adjustable to two heights**. It's made from fabric and lined with nylon, making it very durable.
As well as the standard equipment, it also comes with a kick plate to protect it from corrosion. As far as night is concerned, it has reflective accents so you can be seen easily.
Pros
Is very light
Big and full of compartments
Safe and padded laptop compartment
Easy storage
Rolls smoothly and easily
Easily graspable handle
Cons
Looks bulky when using the straps
Conclusion
Having read this helpful article about the best backpack with wheels for travel, you are now ready for your next adventure. Since you've found a way for storing your stuff more easily, you can be sure to have a relaxing vacation with no bulky and sturdy messes!
So pack your bags and enjoy your trip!
Written By Noah Smith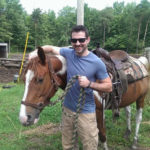 Noah is a freelance writer who has traveled over 32 countries so far. Onebagger is the place where he shares trip details, travel itineraries, planning and booking tips and travel tales. His aim- to help you plan your travel adventure on your terms, choose best travel gear and to your budget.