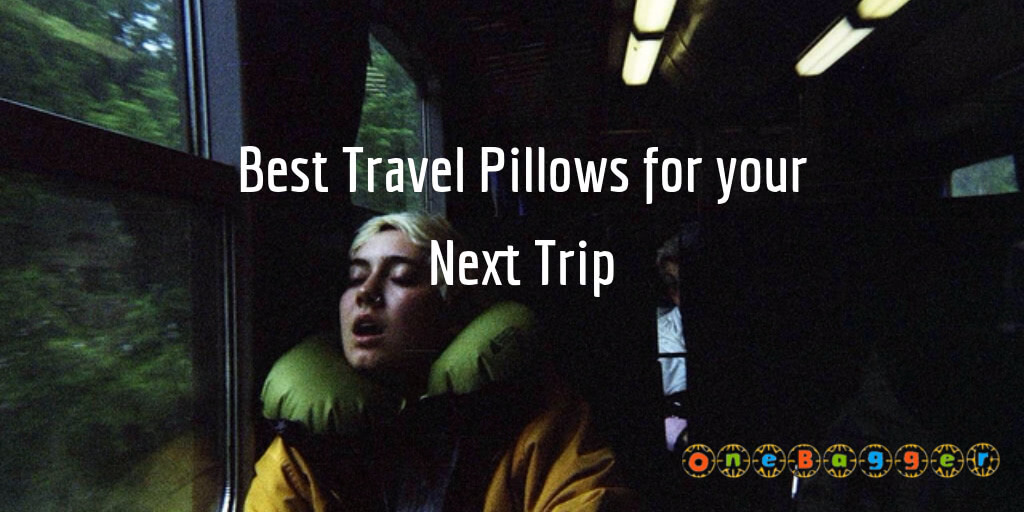 The Best Inflatable Travel Pillows for Long Flights in 2022
Having a travel pillow while on vacation or a business trip is an absolute must. They make traveling much more comfortable, especially the long journeys. They give you a bit of peace in stressful situations and can even help certain medical conditions. No one likes getting off a flight with a sore neck, so travel pillows are the answer.
The Different Types of Travel Pillows
Finding the right travel pillow for you starts by examining the different types that are available. There are two distinct shapes and multiple materials that make up the various kinds of travel pillows. Most people know only one of them and think that's it, interestingly enough.
Rectangular Travel Pillows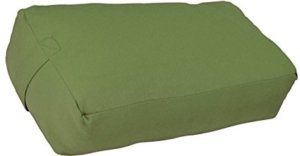 This type of travel pillow is the same as a regular pillow that you'd use at home in bed. However, it's designed and created for the purpose of taking with you during your travels. This means that they are typically more durable than your average pillow, too.
While they are ideal for comfort, they lack in the support department. They are a great substitute for a regular, bedroom pillow should you be caught without one. This instance could include a hostel or a seedy hotel, for example. In fact, some hostels don't carry any bedding at all, only a mattress. Keeping a rectangular travel pillow, in this case, could save your sleep schedule.
U-Shaped Travel Pillows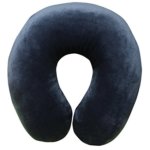 This type is what everyone thinks of when travel pillows are brought up. They are ideal for both comfort and support for your neck, shoulders, and back. Depending on the material it's made out of, you will have a peaceful trip that's made better from comfort.
They ensure that you don't crane or strain your neck, which is a common problem travelers face. You can fall asleep while wearing one to be well rested and comfortable. While they are perfect for long journeys, they're not ideal for sleeping flat with, however.
Inflatable Travel Pillows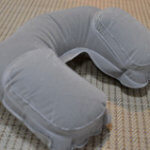 If you want a basic, cheap travel pillow as more of an accessory, an inflatable travel pillow is definitely for you. They aren't the best, but they do** offer a good amount of comfort. Plus, because they're inflatable, you don't have to worry about it taking up space** in your carry on!
Foam Travel Pillows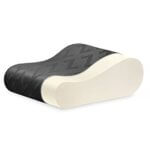 This type is the most supportive where your back and neck are concerned. Therefore, making them the best possible choice for long journeys regardless of the shape. Shelling out a bit more to get one that is memory foam ensures that it won't deflate the slightest bit. They mold around your frame and shape to hold the most comfortable indent to your body as possible.
Sand Travel Pillows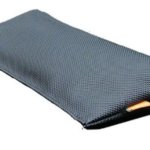 Travel pillows that come filled with sand don't hold their shape very well. Although, if you're someone who has a smaller frame, they are incredibly comfortable. They're better for shorter journeys, such as an hour or two on the train or a bus.
Bead Travel Pillows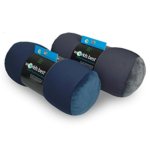 Some travel pillows include small beads as their filling, which some people make the most of. While they aren't as common and don't mold to your shape very well, they are still very comfortable and ideal for shorter journeys.
How to Choose a Travel Pillow
Choosing the best travel pillow for your needs takes a bit of thinking and light research. For example, do you have chronic back pain and need a travel pillow that eases the pain during your travels? Do you want one that will be comfortable enough to sleep with while on a plane?
Asking important questions that relate directly to you and your needs is the best way to figure this out. For example, if you refer to the above paragraph, a u-shaped travel pillow is your best bet. Getting one that is made out of memory foam would maximize comfort and support, as well.
You should also consider how long your journey is going to be. If it's only a couple of hours on the train, a sand travel pillow would be an excellent choice. Foam travel pillows are your best bet for longer journeys.
The Best Travel Pillows
Selecting the best travel pillow is an important decision. After all, you're probably going to be relying on it more than once during your travels. There are some great brands with excellent travel pillows out there to choose from.
Sea to Summit Aeros Travel Pillow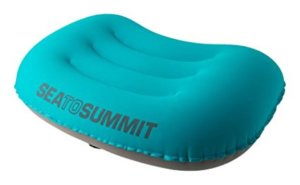 This inflatable polyester travel pillow has an exceptional design that maximizes comfort and support** levels**. It has a narrow center and enlarged ends for a snug supported fit.
This travel pillow includes a multi-functional valve that ensures blowing it up won't take all day. Even though it's made of polyester, it's very quiet. The TPU-laminated material is both soft and silent. It stretches over the fabric in a way that makes it silent. Nothing is more annoying than feeling like you have a beach ball on your shoulders.
It weighs just under 2 ounces, which shrinks to more than half that when you deflate it. It comes in red, green and blue, so you have choices when it comes to color preference.
Klymit Cush Inflatable Pillow & Seat Cover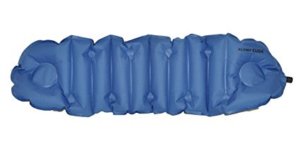 This is a great travel pillow for those who spend time in hostels, camping outdoors, you name it. With enough force, you can inflate it with a single breath! You can customize how thick or thin the pillow is. You can change the dimensions for a taller seat or pillow, too.
It includes ear pockets, so your ears will remain comfortable no matter how you sit or sleep. It comes in Blue/Gray, RECON Coyote Sand and King's Camo for color choices. The quick push valves allow for an easy air release allow for quick inflation and deflation.
It's made of a sturdy, durable material to ensure it can withstand conditions that are just as tough. Overall, it's perfect for sitting on during an uncomfortable journey and doubles as a decent pillow.
EXPED Ultralight Air Pillow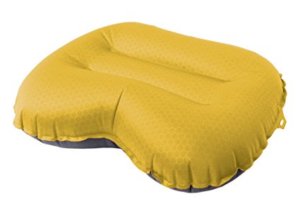 While some of the color options may be quite the oddity, this travel pillow is awesome. It has a single valve for inflation and deflation and can be blown up very quickly. It's perfect for your neck area but doesn't do much for the rest of your body.
Oddly enough, your color options are yellow, orange, and corn yellow. You can choose between the sizes of medium and large based on your overall size and height. You can even sleep laying down with this travel pillow, too! The fabric is sturdy and very light at the same time.
It does make some noise if you move around a lot, but it's comfortable for all positions. Even side sleepers can use this travel pillow and remain comfortable. All the while without waking up with a sore neck.
Why Buy a Travel Pillow?
The answer to that question can be answered with another question: "Don't you want to be comfortable while traveling?". Simply put, if you're sore and tired, your trip is going to suck. Therefore, spending a couple of extra dollars on something to make your trip better is worth it.
After all, why ruin your trip with neck pain when you could be perfectly rested and comfortable? Travel pillows ensure that your trip is going to be a good one.
Written By Noah Smith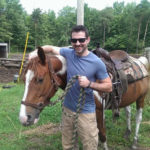 Noah is a freelance writer who has traveled over 32 countries so far. Onebagger is the place where he shares trip details, travel itineraries, planning and booking tips and travel tales. His aim- to help you plan your travel adventure on your terms, choose best travel gear and to your budget.