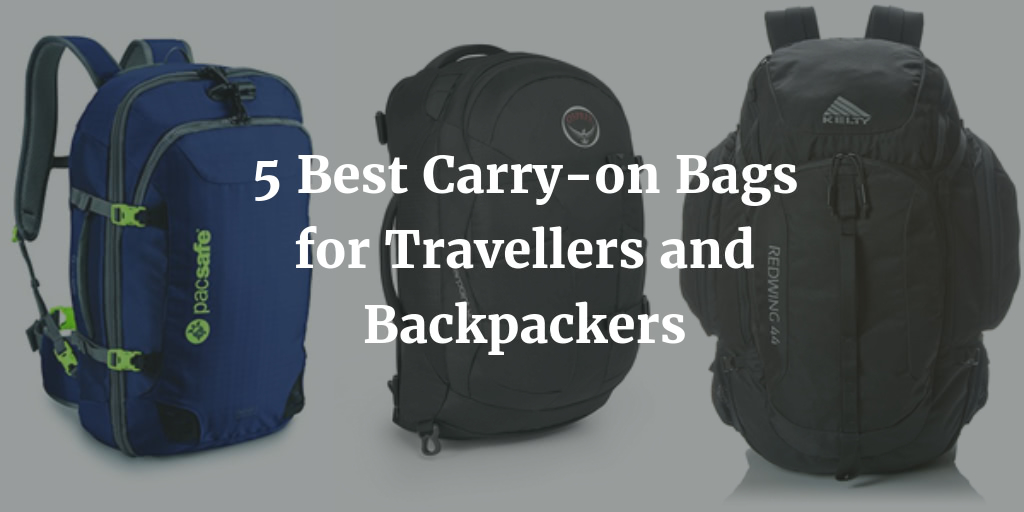 5 Best Carry-on Bags for Travelers and Backpackers in 2022
Side compression straps interfere if you have a water bottle in the holder. Carry on are for people who travel ultralight. Carry-on bags come under Maximum Legal Carry-on Limit so that you don't have to check-in your bag unlike suitcases and wheeled backpacks. Carry-on bags are also helpful in keeping stuff organized.
We looked at the most popular carry-on bags on the market and considered their construction, materials used, capacity offered, the reputation of the manufacturer, style, durability and other considerations. Anyone of them would be an excellent choice for any traveler.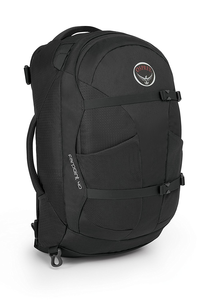 Frames for good weight suspension from the harness to hip belt.

Meshed back panel and pockets for air flow

Lockable sliders with zipper for easy access

Dual Compression Straps

Lifetime Manufacturer Warranty

Mesh pockets have little to no elasticity

Cannot access bag with compression straps in use

The laptop sleeve is on the backside.
What we like about it: It has vast space with the ability to store many items for your trip. Due to its excellent support and suspension system, it can also be used as hand luggage with straps tucked away, hidden from view.
You can quickly pull out the harness and carry it without using the hip belt. Adjustable shoulder straps can direct the weight closer or away from the body to ease your shoulder. We like internal soft wire frame Belt straps which would be helpful for going on long hikes or walks.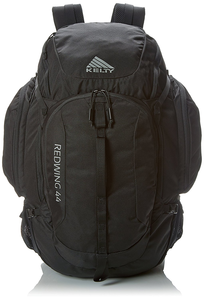 Hybrid-loading U-zipper design makes it work both as a top loader and panel loader

LightBeam aluminum stay Meshed, Padded and ventilating back panel, shoulder straps, and Removable waist belt

Hide-Away Daisy Chain and Handle, Ice axe/trekking pole loops

Dual side pockets Front stash pocket with closure hook

Dual use Laptop / Hydration Sleeve

The hybrid compartment can fit up to 13" laptops in a sleeve.

No direct access to the hybrid compartment

Panel opens only up to 3/4
What we liked about it: All in all it is a versatile bag with great utility, plenty of pockets and straps for organized packing. It has a very comfortable size with plenty of pockets to pack in an orderly manner. It has two big side pockets, a front pocket with lots of small compartments and lots of straps.
We like one on the top which is perfect for quick access to your daycares and passport and a big panel opening for bigger things. You can use it for day hikes or commute. If you are a photographer, then you can fit your gear like your tripods easily.
It's perfect if you've got a lot of smaller items like maps, electronics, pens and other travel essentials which you want to keep separate and have easy access to. It beats other bags by miles in terms of organization.
An additional stash pocket on the front of the pack means that it easy to tuck away a jacket or hoodie if on a hike. The back panel is ventilated, lightweight, well constructed and keeps load stable and comfortable. It has a good functional and beefy hip belt which makes the load on your hips comfortable.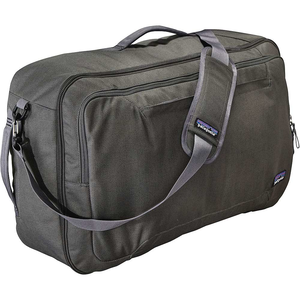 Exterior material is "Cordura fabric" which is tougher than Polyester
Front pockets and a meshed compartment for organized packing.
Soft exterior
Under maximum legal carry-on limit
Dedicated laptop sleeve
Lacks both internal and external fasteners/tie-down straps
Useless hidden luggage tag and sometimes the zippers catch the interior lining
Lacks metal fixtures for stiffer support to stop the bag sagging
What be loved about it: Patagonia MLC with its 45L capacity is designed to fit "Maximum Legal Carry-on" limit, so it can fit in any overhead bin. It has a dedicated laptop sleeve and front sleeve for organizing.
There are plenty of additional pockets and zippered space. It has a number of packing cubes that keep the load evenly distributed. It is a high-quality strong bag with plenty of interior room that handles bundles and garment folders better and keeps them separated.
They have many pockets and organizers, hold a lot of stuff and are easy to carry. On the front, there's a smaller organizer pocket that's great for cables, reading/writing materials and stuff you might use a lot.
Another advantage is that being a soft bag makes it great for squashing into very tight luggage spaces such as trains, tiny car trunks where hard suitcase will be hard to fit in. Upon carrying it, it feels great on the back.
The zippers are smooth and glide easily and the mesh panel in the main compartment is very thoughtful. Patagonia is a great company with best environment ethics and no wonder seasoned writers at Outside and Backpacker use it.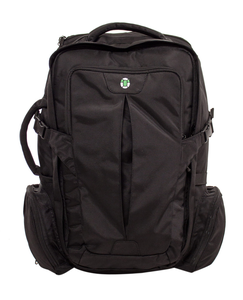 Internal Frame with good weight distribution
locking zippers
Laptop Sleeve
Air mesh back padding
Exterior and interior pockets
Shoulder straps slightly less comfortable
hip belt and shoulder straps are fixed
Slightly expensive
The Tortuga Travel pack is by far the roomiest maximum-sized carry on bag on this list with measuring 22 x 14 x 9". It also has the most organizational pockets and we found it most functional bag.
Besides the primary compartment, there are also 4 internal pockets, 4 external pockets (2 each on the hip and side) and a compartment which can easily accommodate a 17″ laptop with all big compartments with lockable zippers. It has a front opening like a suitcase and keeps bag organized and within reach.
It has a front opening like a suitcase and keeps bag organized and within reach. The Tortuga has an internal frame along with a hip strap to allow you to distribute weight.
The padded hip strap itself is quite comfortable, but the shoulder straps are a little less so. The hip and should straps do zip away, but there is no way to attach a duffel-style shoulder strap to this bag.
This bag with its extra space is useful for long-term travelers who aren't yet accustomed to packing light, but it might feel a bit clunky for seasoned minimalists.
This bag has been designed for international travelers, backpackers, study abroad students and digital nomads.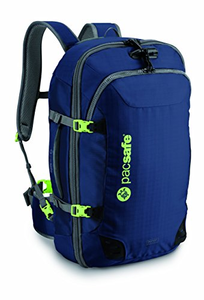 eXomesh Slashguard stainless steel wire mesh embedded into fabric helps protect against slash-and-run theft
RFID protective pocket
Zippered main compartment, plus front zippered compartment
Stowable Straps, comfortable and sturdy, even packed heavily
Very rigid internal frame
The bag is a bit uncomfortable to carry when fully loaded.
Side compression straps interfere if you have a water bottle in the holder
What we liked about it: A good lightweight carry-on duffle with good design. You can fit moderate amount ultralight gear in this backpack. It has padded hip pads which make it comfortable to carry. It has a right amount of pockets and compartments, nice side mesh pockets, front compartment with organizer, RFID pocket and a top lid compartment with security pocket, so you'll be able to pack in an organized manner.
We found the built-in waterproof rain cover, soft touch breathable shoulder and waist straps to be its good features. There is also a hydration pack compartment that's padded and compatible with a 15" laptop. There are multiple compartments for easy organization, top pocket for storing easy to access.
We liked the main compartment which a flap instead of a D-shaped zipper. Its internal frame keeps the pack weight and structure nicely off your back with room to cool as well.
Its best features are the consideration that has been given to the security of content inside the bag such as RFID blocking pocket which prevents digital theft, stainless-steel wire mesh to prevent snatch and run, strong webbing straps to prevent cut-and-run and dual release security buckles for securing the bag to a fixture.
There you have it. All of the bags on the list are excellent and finding the one perfect bag is futile. Use above list to carry out future research and select the one which matches your requirement.
For choosing a bag for personal use check the dimensions of your airline cabin needs. An ideal bag should be lightweight with tough exterior for adventure travel packs. Other convenience features you should look into are locking and tamperproof zips and internal valuable pockets.
A harness or a shoulder strap would help in carrying the bag over a long distance. Side compression straps would be helpful in keeping your gears fastened and protected.
Resources
Written By Noah Smith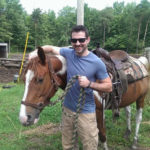 Noah is a freelance writer who has traveled over 32 countries so far. Onebagger is the place where he shares trip details, travel itineraries, planning and booking tips and travel tales. His aim- to help you plan your travel adventure on your terms, choose best travel gear and to your budget.