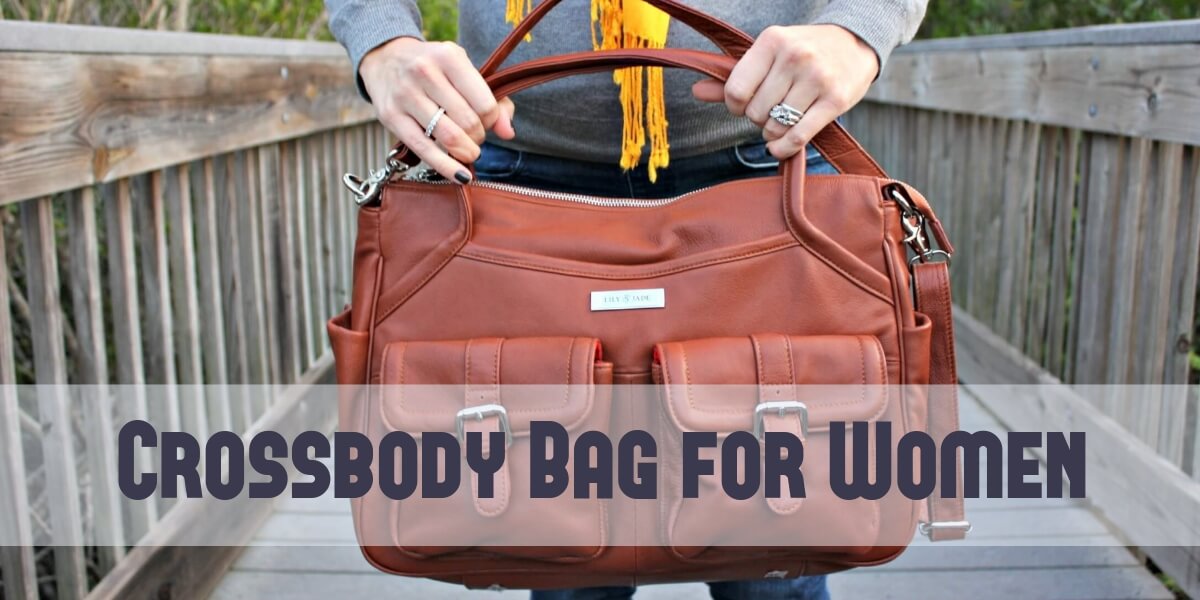 Want a Practical Bag for Travel? Try a Crossbody Bag! in 2022
Whether you're going to work, school, college, or are travelling around the world, you need a good quality bag. And I'm not talking about those bulky, impractical bags that are so heavy to carry. I'm more a fan of a crossbody bag.
This kind of a bag has enough space for your belongings, yet is easy to carry and doesn't take up much space. In this article, I'll talk about three best crossbody bags for travel, so that you can choose the right one for your wallet and shoulder.
3 best crossbody bags for travel – Reviews
When I wanted to buy my very first crossbody bag, I was shocked at how many choices we have. No wonder I couldn't make up my mind. So, I ended up buying two of these, neither one was as quality as I had thought.
Later on, I researched about this type of a bag and found those that were great-value-for-the-money. I'm sharing them with you so that you don't make the same mistake as I did.
Travelon Anti-Theft Mini Shoulder Bag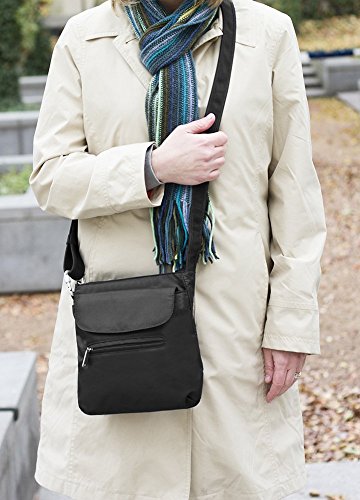 At the first glance, this bag looks like any other bag. But, the truth is it's anti-theft. Thus, it will keep your passport, credit cards and belongings safe and sound. Obviously, that makes it a great choice for travelling.
It's made of synthetic material, and features slash resistant mesh body panels. In addition, the shoulder strap is slash resistant. Meaning, your bag will be protected from the wrong hands. The synthetic material makes it durable so it will last you a long time.
This bag is a mini size, but it has convenient pockets to fit all your credit cards, wallet, and other essentials.
What I love about it is that the card slots are RFID. For those of you who don't know this term, it stands for Radio-frequency identification. Simply put, thieves won't be able to steal your personal data and credit cards numbers, thanks to this protection.
Add to that a zipper closure and locking straps, and you can stand confidently at that airport.
As for its adjustability, you can adjust the strap to your needs and liking. The bag comes in more than 10 different colors, so you will surely find the color to match your style and personality.
On top of all, this bag is reasonably priced, considering it's reliability and practicality.
Pros:
Reliable and durable
Slash-resistant shoulder strap
RFID card slots
Adjustable shoulder strap
Reasonably priced
Cons:
The zipper could have been better made
Baggallini Everywhere Crossbody Bag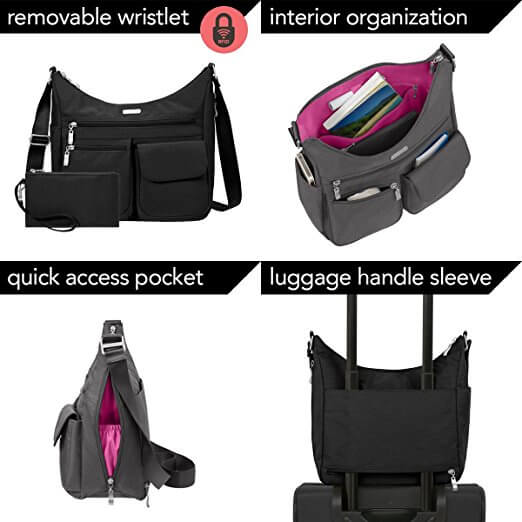 If you want a crossbody bag for travel that is of an outstanding quality, this is the way to go. The Everywhere Crossbody Bag makes easy work of organizing and protecting your stuff, wherever you plan to go. It's a good choice for work, travel, college, or any other occasion when you need a stylish and reliable bag.
Being made of water-resistant nylon and featuring a synthetic lining, the bag is long lasting and trustworthy. It's also easy to clean. Just use a damp cloth or wet wipes and voila – it will look spotless again.
What you'll appreciate about it is its mini size and many pockets (both interior and exterior ones). There's even a quick access pocket where you can keep your phone or keys. Thanks to this handy pocket, you won't have to remove everything from the bag in order to find what you need.
The bag comes with a removable wristlet that is also RFID. That way, your credit cards will be close to you, yet protected.
Like with the first model on the list, this bag also features an adjustable shoulder strap. But, unlike the first one, this one features a luggage handle sleeve. Thanks to this useful feature, you can attach this bag to your suitcase and make transporting much easier.
As for the design, the bag looks modern, but nothing too much. So, you can wear it with your casual outfit or a sporty one.
Considering the high-quality of this unit and its top-notch design, the high price tag doesn't come as a shock.
Pros:
Water-resistant
Keeps your essentials organized
Quick and easy access pocket
Luggage handle sleeve
Easy to clean
Adjustable strap
Cons:
Oakarbo Crossbody Purse Travel Shoulder Bag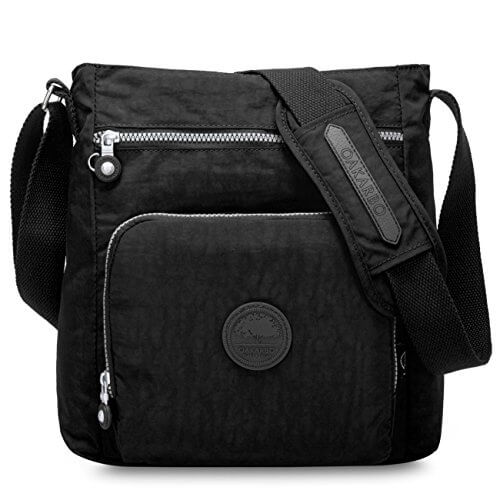 The Oakarbo Crossbody Purse is suitable for those on a budget as well as for those who don't expect all the bells and whistles. This bag is a good choice for a short trip, as it's not very comfortable and neither has it RFID pockets.
Obviously, the best thing about this accessory is its affordability. Costing less than $25, this crossbody bag is indeed worth the money.
It's made of polyester and nylon, ensuring a decent quality. However, it's not as durable as previous bags on this list.
Another great feature is that this bag is roomy. With a front pouch pocket, full-length front pocket, and a back zip pocket, this bag provides a plenty of space for your wallet, accessories, and tablet.
Thanks to the adjustable shoulder strap, you can wear it cross body, and remove some pressure off your shoulders.
All in all, this bag offers good quality taking its price into account.
Pros:
Roomy
Comes with many pockets
Affordable
Cons:
Not durable
Doesn't have RFID pockets, and card slots
Final Thoughts
Well, that's all I have to say about these three crossbody bags. I gave you a diverse list so that every one of you can opt for the best bag that will suit your needs.
Written By Noah Smith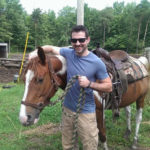 Noah is a freelance writer who has traveled over 32 countries so far. Onebagger is the place where he shares trip details, travel itineraries, planning and booking tips and travel tales. His aim- to help you plan your travel adventure on your terms, choose best travel gear and to your budget.