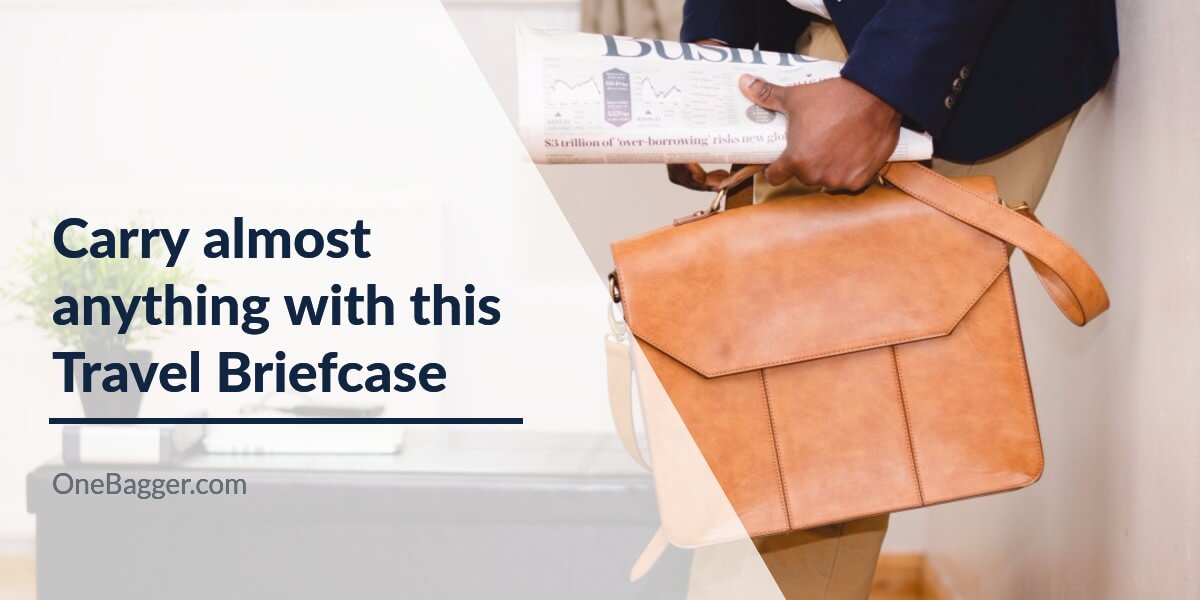 Carry Anything and Travel With Style With the Best Travel Briefcase in 2022
If you're anything like me then you travel every once in a while. Also, then you know the hassle of traveling. Not only you have a bunch of things to pack with you, but you also have to think about your tablet and travel laptop. First, you have to find a suitable briefcase travel bag for your precious devices, and then you have to deal with carrying the units with you.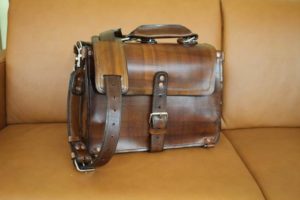 Leather briefcases are rage these days with professionals
Add to that a suitcase and you hardly can move. That is why you need to find a time to look out for the best travel briefcase. It will make carrying your laptop around a whole lot easier since it will not be so bulky and cumbersome.
Moreover, your laptop will be safe and sound, due to high-quality materials. If you are ready to make travels easier for yourself, then you've stumbled upon the right article. I am here to explain to you how to find a high-quality briefcase that will hold up on your journeys but will not limit your movements as much.
So, are you with me? Then, let's get to work.
How to choose the best briefcases for travel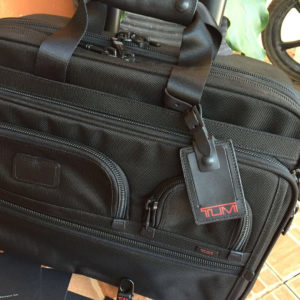 Plenty of pockets and well organized for documents and laptop
Whether you need a briefcase for your business travel or vacation, here are some features to pay attention to when buying. They will steer you in the right direction and help you choose the best laptop briefcase for travel possible.
What is it made from?
The first thing you need to consider is how well-built a briefcase actually is. Naturally, the stronger materials, the more durable the briefcase.
But, durability is not the only thing that matters. Your briefcase needs to be sturdy and resilient, so your laptop is protected along during the transport. Also, consider buying a waterproof briefcase since you never know what is around a corner.
Is it easy to carry?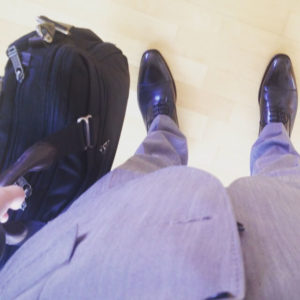 This briefcase is a pleasure to carry with hands
The next thing you want to think about is portability. For example, you can buy a travel briefcase on wheels, if you don't want to struggle with the transport. Then again, if you feel that a travel briefcase with a shoulder strap would be enough, go with it.
Just keep in mind that carrying it for too long might/will cause your back and shoulders to hurt a bit, but I believe in you. If you think that you can carry a laptop in a case, then you can do it! Now for real, the best travel briefcase for men comes with a resilient and reliable shoulder strap. Ideally, it should be padded, to provide you with some comfort.
Is it easy to clean?
Bringing your brief with you wherever you go also means that it will get dirty fast. So, what you also need to think about is how easy you can clean your briefcase, without damaging it.
How big is it?
Lastly, you need to think about the size of a briefcase. How big laptops and tablets can a briefcase accommodate? Moreover, does it come with extra pockets and how convenient they are? Personally, I love more pockets, since that way, I can organize my documents and items in a better way. How about you?
The Best Briefcase for Travel is Tumi Alpha 2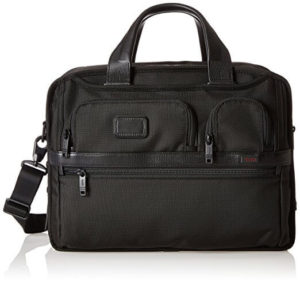 Tumi Alpha 2 Travel Briefcase
Well, now that you've gone through this quick buyers guide, you can take a look at arguably, the best briefcase for travel. Coming from Tumi – the leader in this field, this briefcase takes traveling to a whole another level.
Sure, the price of this brief is hefty, but, this briefcase is as good as it gets. So, basically, at around $500 range you get everything that makes a briefcase a good one – comfort, durability, sturdiness, reliability, and versatility. For Christ's Sake, who would not be happy with what this beauty offers? I now that I am.
It is made from Tumi's signature FXT ballistic nylon, so it is sturdy and seems indestructible. So, your laptop will definitely be safe. There is also a padded tablet pocket, and file section, for worry-free travel. What I love about it is that it comes with a number of handy pockets, so I can keep all my items in one place.
Tumi's products are well-known for their stylish look, and this briefcase is no exception. This beauty looks highly professional and classy, and you will love that.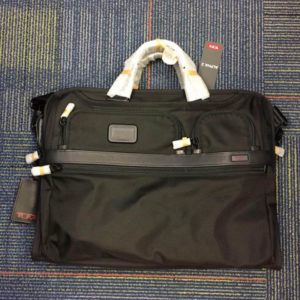 With an ID Lock, your personal data will also be protected. In case you lose a briefcase, don't worry. There is a TUMI tracer – a program that makes easy work of finding lost/stolen items. Now, this is one of the reasons why Tumi is the leader.
When it comes to the portability, this unit is a bit heavy, due to high-quality materials it is made from. However, it comes with telescoping handles and patented articulating shoulder strap. So the brief will stay put and will give you comfort.
Lastly, the patented closure system makes sure you can easily unzip the bag, without causing any damage. The Omega Zipper puller will not break. This only adds up to the reasons of why you should buy this briefcase.
Overall, it is clear to see why this is the best briefcase for travel.
Leather Tumi Alpha 2 looks cooler.
Pros:
well-built
sturdy
classy design
many pockets
comfortable shoulder strap
sturdy telescopic handles for easy transport
Cons:
Slightly heavy
Bit pricey
So, do you want a good briefcase for your business trips?
I hope this article helped you realize that investing in a high-quality travel briefcase is the smartest thing you could do. And we all know that there are no better quality briefcases than those coming from Tumi. This company is a number one in the world of business and travel lifestyle brands with a good reason, so you just can't go wrong with their briefcase.
The product I described is not only my favorite but also of a number of people all over the world. Words just can't express enough what this briefcase is like, you have to feel it. So, buy one of these and feel the difference. Only that way, you will understand what a high-quality travel briefcase actually means.
Written By Noah Smith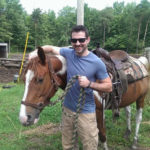 Noah is a freelance writer who has traveled over 32 countries so far. Onebagger is the place where he shares trip details, travel itineraries, planning and booking tips and travel tales. His aim- to help you plan your travel adventure on your terms, choose best travel gear and to your budget.