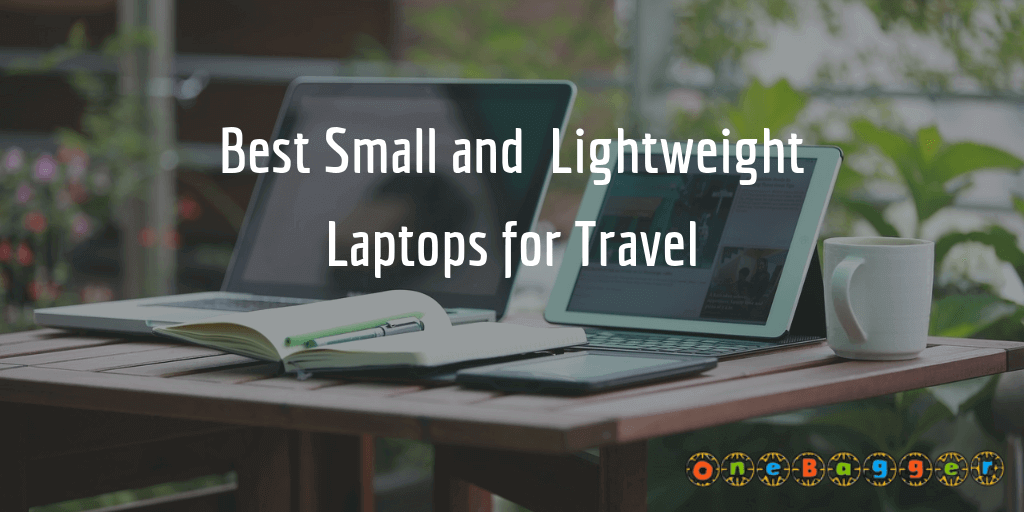 Best Small Ultraportable Lightweight Laptops for Travel in 2021
Having a laptop as a digital nomad is essential for your career. While you may not work on one directly, you should still have one in case you do need one. Finding the perfect one for you is fairly easy. Before deciding on one, however, you will need to consider a couple of things.
What Makes a Laptop Good for Traveling
Laptops that are specifically designed to be good enough for travel consists of multiple categories. For example, say you are going backpacking during a trip but need a laptop. In this case, you will need one that is a smaller, lightweight laptop when compared to regular laptops.
If you work as a photo editor and need a large screen, however, you will need one that has just that. A travel laptop in this instance will need to be bigger and have more features to it.
You will also need one that is durable enough to handle a fall. For example, say it falls out of your backpack and smashes.
Now what? This is why checking the durability standard is so important. Traveling can be a bumpy ride, especially for your lightweight luggage.
The Different Types of Travel Laptops
You have a couple of options where which travel laptop type is best for you. By deciding which type of travel laptop you'd prefer, you're one step closer to selecting the perfect one for you.
Hybrid/Convertible Laptop
This type is what's known as a "2-in-1" laptop. It has all of the functions of a regular laptop, but it can separate from the keyboard and become a tablet. These hybrids usually come with a touchscreen capability, as well.
Ultrabook
Ultrabooks are serious pieces of hardware when compared to regular laptops. They are designed to have an uncompromising performance level while still being as lightweight and small as possible. Overall, ultrabooks are lightning quick and have the most impressive performance power of all.
Netbook
Netbooks are designed to have the majority of laptop programmed functions but at a much smaller size. They are only up to 12" max in size and are mini laptops. They are perfect for travel because of their size and ease of use during travel.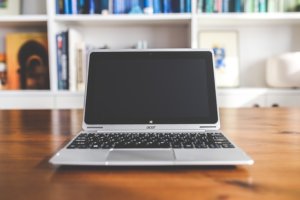 Tablets and iPads
While tablets and iPads aren't technically laptops, they are just as useful. This is particularly the case if you only need a laptop for minor work that can be done on either. Tablets and iPads are great exceptions for a laptop.
How to Choose a Travel Laptop
An ideal travel laptop is** thin and ultra-portable and lightweight**. But you also need to consider other things.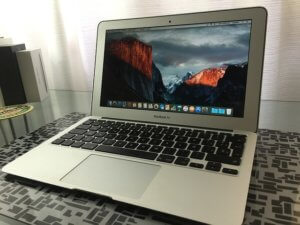 Look for one that does not have too many features and programs already installed. Otherwise, your battery will get gunked up and die very quickly. This is something you'll want to avoid when traveling. Battery life is also critical in general. You will need one that will not die an hour after being unplugged.
You should also look for one that has plenty of storage unless you have an external hard drive already. If you're in the middle of your trip and run out of storage without a drive, what next? That's going to be a serious problem. Therefore, keep storage or an external hard disk in mind.
Durability is also crucial. If a laptop has a protective case on it or one that can be added, definitely get it. You may need it in the future. These are just the basics, but what to look for is based on what you need in general.
Choose what Operating System you require. If you need to work on Mac, then go for MacBooks. Otherwise, Windows and Linux are your other two options.
Some Important Things to Consider for Travel Laptop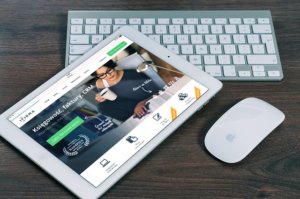 The Display is another important criteria that you should consider in a travel laptop. The bigger the screen, the heavier the laptop will be and more battery it will use. The 13 or 14-inch screens are common among travelers. If you need more, then try to get a portable display. Also, check if the screen is anti-glare if you will be working outside in the sun.
Portable Computer Monitors for Travel
Trackpad and Keyboard on the laptop will be what you will be working with most of the time. While you can certainly buy an external keyboard and a mouse, they will add to the weight of your bag.
Warranty is another thing most people do not consider while buying a laptop. Since you will be traveling to different countries, it makes sense to purchase a laptop with World Wide Warranty. Apple, Dell, Lenovo all offer it but check with your vendor before buying.
Added Accessories That May Be Necessary
Accessories are always good to have, especially for a travel laptop. While not all my be useful and required for you, some of them definitely will be.
Electrical Adapters and Converters
North Americans use 110-volts and individual shapes in the outlets, while the rest of the world does not. In fact, the rest of the world runs on between 220- to 240-volts. Therefore, appliances and chargers become an issue.
This is where an electrical converter and adapter comes in. They allow your appliances and chargers to plug in and work no matter the plug design or volt needed.
Universal Travel Power Plug Adapter
Surge Protector
Take comfort in a cheap surge protector to safeguard your much more expensive laptop.
Power surges are common in Asian and developing countries. You don't want to delay your work because of your faulty adaptor or battery.
A Quality Laptop Bag
Everyone traveling with a laptop needs a quality laptop bag. They help to give you a separate carrying option and add some extra padding for your device. For example, if you drop the bag with your laptop inside, it won't break. Ensure that you don't cheap out in this category, however.
Internet Stick
WiFi is not always readily available, so having portable internet is your best bet. Internet sticks can be purchased or rented from most internet service providers. They can be taken anywhere and could save you in a bind.
Programs and Software Needed for Work
It's very unlikely any laptop will come with all of the programs that you need for work. For example, if you are a freelance writer you will need a writing program. Writing programs usually come with laptops, but you may need to purchase it.
You should be purchasing, downloading, installing, and setting up these programs before you go on your trip. This will ensure that no problems can occur after you've left and can't do anything.
The Best Travel Laptops
Below are the best travel laptops available at this time of writing. They are each a bit different to suit the needs of different people and careers. See which one is best for you and your particular digital nomad job.
The MacBook Air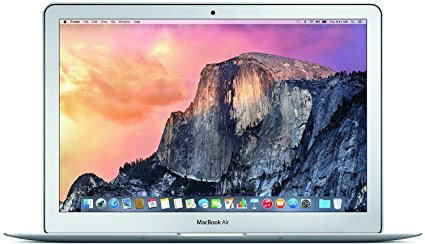 The MacBook Air has a battery life of up to 12 hours on a single charge. It has up to 8GB of RAM and approximately 128GB SSD. The large 13" screen, vibrant picture, and lightweight design make it perfect for travel. It's ideal for digital nomads who need a laptop for their career. Due to its superb screen Photo/video editors, for example, will benefit the most. The trackpad and keyboard are a delight to work on helping writers and programmers.
The Macbooks are good lightweight machines that are powerful enough to get real work done by anybody. They also have the great** lifespan** (mine lasted for six years). You can upgrade the SSD to higher capacity it will remain lightweight and small while retaining speed or quality of other competing laptops.
Apple also offers International Warranty which is ideal for travelers like us. You can get your Apple hardware diagnosed at an Apple Store.
One issue with newer Macbooks is the lack of ports.
The Dell XPS 13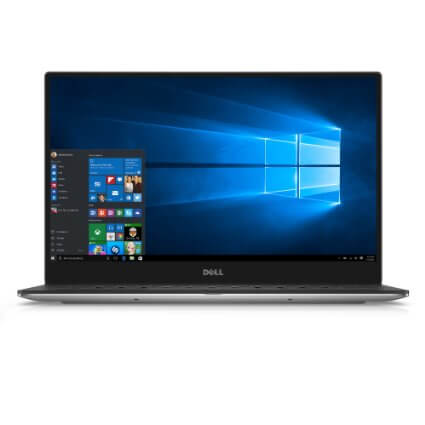 The Dell XPS 13 is incredibly small, looks very sleek and fancy. It is very lightweight, weighing less than 3 pounds which make it very easy to carry around. It also has a 13" display with excellent resolution. You can get up to 15 hours on a single charge. It has a good touchscreen with pinch to zoom capabilities.
You only get 16GB of memory, however. It's a great laptop for those who need to save much work. It's also ideal for those who will need to use it sometimes, as well.
The Asus Zenbook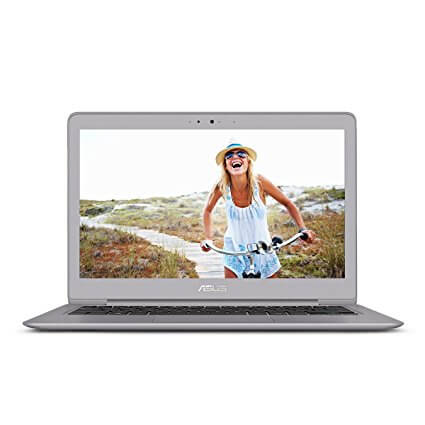 The Asus Zenbook weighs less than 3 pounds, has an 11" screen, and has only 4GB of memory(which you can increase). You get up to 6-7 hours of battery life on a single charge. It's an excellent choice for those who don't need a laptop but still want one. It's also great for someone who has an external hard drive and needs a powerful laptop.
The build is sturdy and quite slim making it good travel laptop. This is a great option for those on a budget as these are significantly cheaper than Apple counterparts.
Asus Chromebook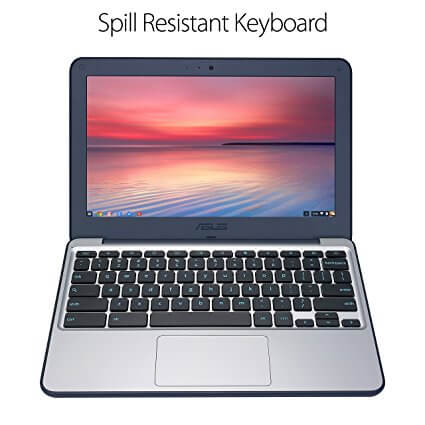 Chromebooks run Chrome OS natively which is a great OS. But they suffer from a major drawback that they need to be connected to the Internet to work. Instead, what you could do is wipe the OS, add a new SSD and install other Linux derivates like 'Ubuntu.' It runs smooth and weighs nothing for a laptop for travel.
Thinkpad T420s/T430s
Thinkpads are robust machines. You can upgrade them on the go. Due to large RAM and SSD, they are faster than MacBooks and other laptops on this list on daily use cases. Due to their non-polarized display, it works perfectly in the sun(working on the beach, unusual locations is easy).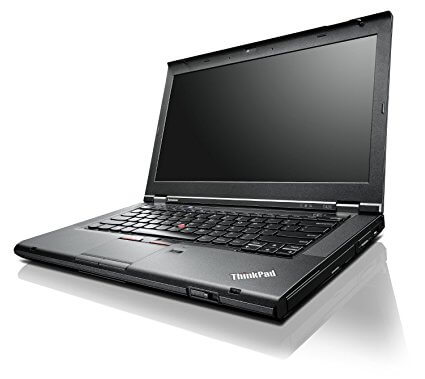 The battery life is good, and the keyboard is the best you can buy for any laptop. So this laptop is a must buy for any writer or programmer or anyone who has to type a lot.
Best Hybrid Laptops for Travel
If you want to buy hybrid laptops, then look into Asus Transformer notebook, Lenovo Yoga Series or Microsoft Surface Pro.
Securing Laptop while Traveling
Encrypt - Your data/content is much more valuable than the laptop itself.
Legal - Do not keep anything that might be considered illegal in the host country. Otherwise, the device might be confiscated.
Safety - Use Pacsafe locks to secure laptops with the bag. While going out try to keep the laptop in the hotel/hostel itself if you do not need it.
Securing Laptop while Traveling
The Best Laptop for Travel
As you've just found out, buying a laptop for travel isn't so easy. Choosing the best laptop for travel depends highly on your career, what you need, etc. However, once you find one you like and are sure it's best for you, you're ready to go!
Remember to download all of the programs and software that you are going to need before you go. Nothing is worse than arriving at your destination only to realize you've forgotten something. When your career is on the line, this will be a nightmare.
Therefore, do a quick checklist before you go. Remember to have fun while traveling, as well!
Written By Noah Smith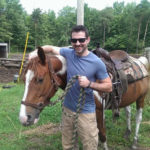 Noah is a freelance writer who has traveled over 32 countries so far. Onebagger is the place where he shares trip details, travel itineraries, planning and booking tips and travel tales. His aim- to help you plan your travel adventure on your terms, choose best travel gear and to your budget.