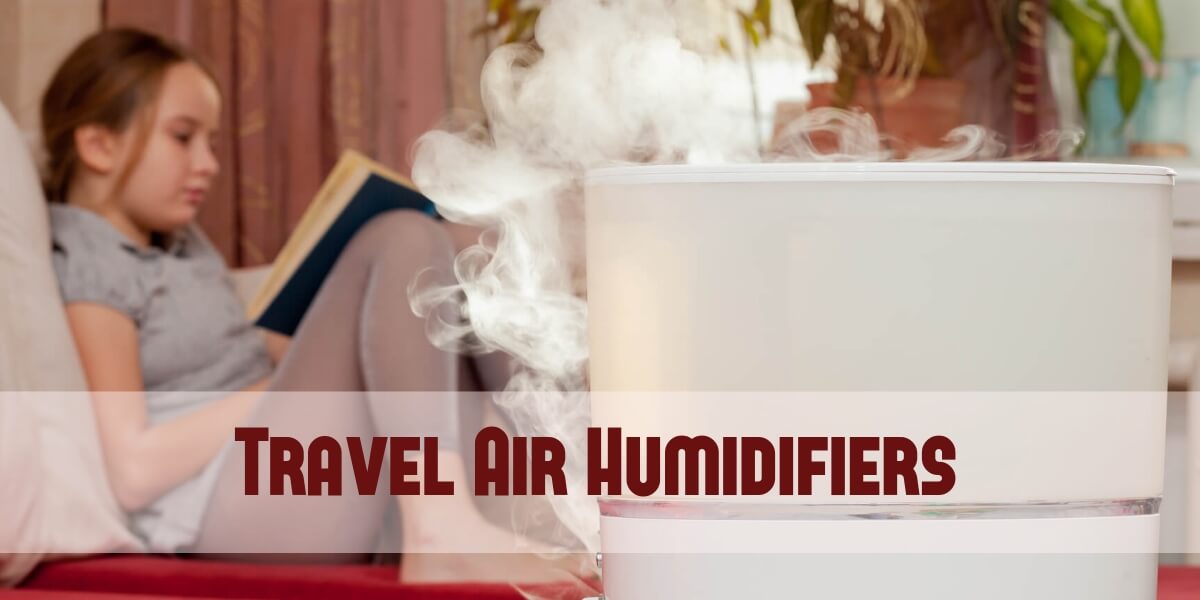 Take a Deep Breath and Enjoy Your Day With Travel Humidifier in 2022
Even though doctors recommend that humidity level in our home should be at an ideal level, it seems to me that few people actually care about that. And what a mistake that is! Did you know that dry air has a negative impact on your respiratory system, your skin, and your sinuses?
But, all that can be fixed if only you would buy an air humidifier. And just to make things clear, you should have one for your office, one for your home, and one for your trips. That way, you will breathe purified and fresh air every moment. Of course, you can buy three different air humidifiers, each one being designed for a different purpose. But, I highly recommend you buy a travel humidifier so that you can breathe fresh air wherever you are or plan to go.
3 Best Humidifiers for Travel
1. Fancii Cool Mist Personal Humidifier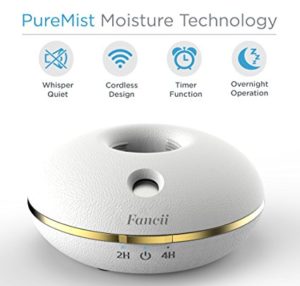 The Fancii Cool Mist Personal Humidifier is a handy little unit whether you want to use it at home or for travel. With its clever design, this unit works like a charm and is also easy to use. Simple and portable, this is arguably my favorite travel humidifier.
This unit doesn't have a built-in water tank that is a real hassle to maintain. In fact, this humidifier requires a standard sized water bottle in order to humidify the air in the room. Yup, it's just that simple. This makes it easy to carry around as well as to maintain.
In addition, the humidifier doesn't feature a cord. It is battery operated so you only need 3 AA batteries. OR, you can plug it into a USB which I definitely recommend. The batteries are a good option when you really don't have a choice. But, they tend to empty fast so keep that in mind.
Another thing I want to mention is an adjustable timer. It allows you to set the desired period of time you want this little unit to work (2, 4, 6, and 8 hours).
Also, no need to worry about your humidifier running out of the water while you're not there. When that happens, the unit will shut down on its own.
The PureMist ultrasonic technology works quietly (at below 15 decibels) and gives you purified and fresh air quickly.
With all this being said, this unit is great for bedroom, office, hotel, tent, or even on flights.
Pros:
Simple design
Portable
Easy to use
Choose for how long you want this unit to work
Cordless
Quiet
Cons:
The batteries empty quickly
2. Deneve Cool Mist Humidifier Stick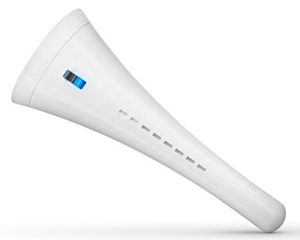 The Deneve Cool Mist Travel Humidifier Stick is an even better option for travel than the first model I mentioned. This is due to its design. This humidifier looks like a stick so it takes very little space. You can even put it in your coat pocket. So, if you want a humidifier that is easy to carry with you, this one is just what you need.
This humidifier doesn't require any water bottle or water tank to operate. It only requires a glass of water. Then, you should submerge the humidifier into the water, making sure that the water level is below the USB charging port. Also, the top mustn't get wet.
Because of its compact design, this unit covers only a small area. So, keep it on your night table, or on your office desk to feel its benefits.
Oh, and the light indicator is very bright which can disturb your sleeping. To prevent that, use a mug. That way, the light will be limited.
Pros:
Compact and convenient
Perfect for carrying around
Hassle free
Cons:
Covers only a small area so you have to keep it as close to you as possible
3. Pure Enrichment's Travel Ultrasonic Humidifier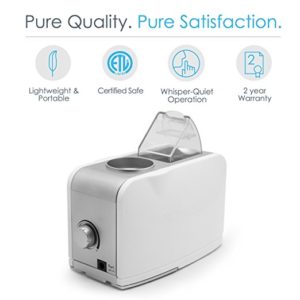 The Pure Enrichment's Travel Ultrasonic Humidifier is a good choice for anyone who needs a durable and reliable humidifier in their living or working space. Silent operation, portability, and ease of use make this unit a good choice for an office, classroom, or nursery.
What you will appreciate about this unit is its design. Even though it's bigger than aforementioned models, it's still lightweight and portable.
Just like the first product on this list, this one also uses a standard water bottle in order to produce moisture. Depending on the room temperature, bottle size and water quality, this humidifier ensures up to 6 hours of continuous operation. But the best part is that you can regulate humidity level because the unit comes with the Adjustable mist control knob.
Thanks to an auto shut-off feature you'll have peace of mind since the humidifier will shut off when the bottle runs out of the water. That way, the humidifier will last longer and its performance won't decrease. Speaking of its performance and durability, one of its greatest features is a 2-year warranty.
Oh, and not only that, but this humidifier is certified for safety. So, if you're looking for a trustworthy humidifier, this is the way to go.
Pros:
Perfect for nursery, office, classroom, or hotel room
Lightweight and portable
You can control the humidity level
Comes with a 2-year warranty
Cons:
The LED light shines so intensely that it can distract your sleep
The Final Thought
A good travel humidifier makes a big difference in your living/working space. It alleviates dryness and allergies, and it also relieves cold symptoms. You can choose one of the models I mentioned since all of them are good-value-for-the-money-provided. Of course, each one of them comes with both good and bad sides, so it's up to you to choose what you really need and want.
Written By Noah Smith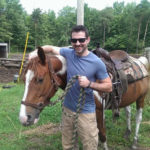 Noah is a freelance writer who has traveled over 32 countries so far. Onebagger is the place where he shares trip details, travel itineraries, planning and booking tips and travel tales. His aim- to help you plan your travel adventure on your terms, choose best travel gear and to your budget.