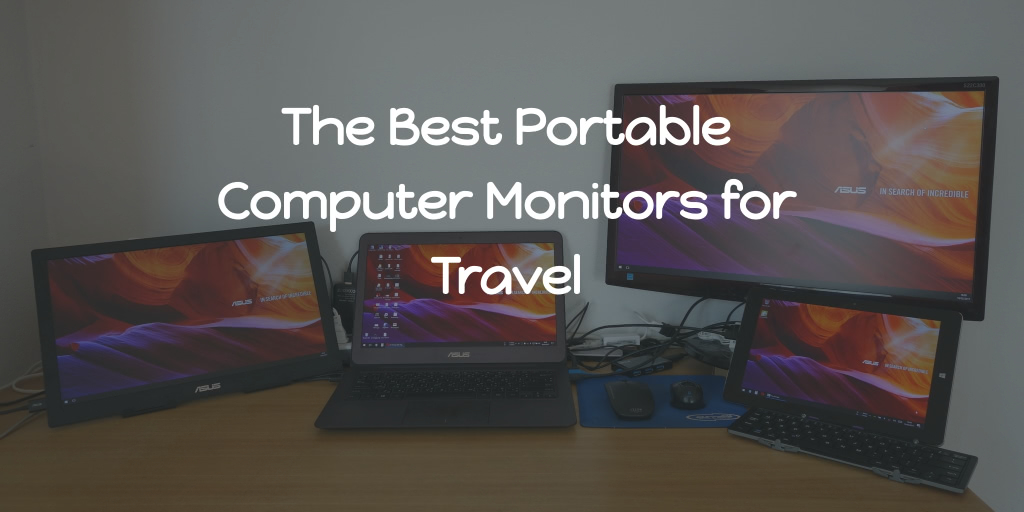 The Best Portable Computer Laptop Monitors for Travel in 2022
When traveling on business with a laptop, having a portable monitor can sometimes be a great necessity. Portable travel monitors allow you to have a second screen that can extend from your notebook. It can be very helpful when you are working on larger, more thorough projects that require a lot of your time and attention during your travels.
What to Look for in a Portable External Monitor for Laptop?
A portable monitor is not suited for travel if it isn't lightweight, easy to carry, compact, or thin. You want to have one that can fit in a carry-on, is comfortable enough for you to hold it, and has a size that can easily be slipped into a backpack and not be too heavy to carry around.
You should also look for one that is powered by a USB. These travel monitor for the laptop are perfect for Internet connection, better for data transmission, and are easier to connect to your notebook.
While the picture quality and overall image do not have to be one hundred and ten percent perfect, it should still be of high quality at the very least. After all, you're going to be using these monitors for tech jobs, so ensuring that you have one that can get the job done and look great at the same time gives you the best of both worlds.
In fact, you should be looking for a full HD(1080p) LED portable monitor. They are more advanced than any other, sit comfortably between being very affordable and somewhat expensive, and feature a frame that is of high-resolution.
Portable LED Monitors offer best display vs power consumption ratio.
If you need to have any extra features, such as a charging port for other devices, for example, then you should also look into those, as well. It's critical that you get a travel monitor that will suit all of your needs and wants before you make the purchase, especially considering that they are not all dirt cheap.
Where to buy Portable Monitor?
You can purchase a monitor at you local electronics store or online retailers like Amazon. You can test the screen at your local store, but if you buy online, you might get huge discounts.
How to connect Portable Monitor to Laptop?
There are various ports like VGA, HDMI, USB, etc. Most monitors support HDMI and USB. Some monitors also allow connection via WiFi if you are on the same network. Instruction for each method is different for different devices, consult the user manual for more.
Portable Monitor with HDMI Input should be easily connected everywhere.
The Top 4 Portable Monitors for Travel
We have taken a look at multiple portable monitors for laptops on Amazon to figure out which ones are the ultimate monitors to bring with you on your trip. The three monitors within this review are the best ones that Amazon has to offer.
HP ELiteDisplay High-Resolution LED Monitor
This portable monitor for travel has a 14" LED monitor that is sleek, stylish, and has a very attractive appearance overall. It has a high-resolution display, a wraparound cover, uses a USB port to connect to the laptop, is very thin, and has a very compact design.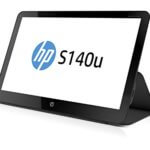 You can fold it backward and add a second screen using your laptop, notebook, tablet, or whichever device can be successfully connected using a single USB cable. It comes with a proprietary USB cable.
The stand can be difficult to use at first, but it's important to know that there is a magnetic strip on the back of the monitor that will fit directly into the stand position. It's crucial to read the manual and practice standing it a couple of times to ensure that you get the hang of it. This way, the monitor will not fall over and receive any damage. The manual outlines how you are to use the stand.
Because of the simplicity of this travel monitor for laptops, it's perfect for freelance writers, editors, and other simple travel careers that don't need too much in the way of design and overall graphic support systems.
Asus MB168B+ USB Portable Monitor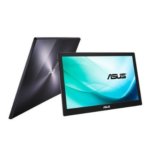 This monitor from Asus is so lightweight that breathing on it makes it fall over. The connector is USB 3 MicroB port. The resolution of the screen is high, and images are crisp.
Do not let these monitors fall over because USB connector can be temperamental if you're not gentle with it.
AOC Portable LED Monitor with Case
This 17" LED portable monitor comes with a case for easy storage and travel and boasts a 1600x900 high-definition resolution display. It's powered by a USB and does not require a power cable. However, it does require USB 3.0 technology.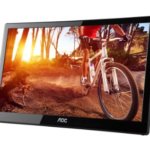 You can use auto-pivot, landscape, or foldable flexi-stand portrait mode based on your choosing. Depending on the mode you set it on the screen will move to your liking. For example, auto-pivot will turn the screen in the direction that you are holding the monitor. If you are holding it upright and not to the side, the screen will shift to follow your movement automatically.
The ultra slim design allows for easy, on the go presentation and is great for those who travel quite often. You can mount it on the wall, thanks to the VESA 75 x 75 mm Mount Compliant feature, but only if you have the proper bracket and arm to mount it on the wall.
The widescreen monitor allows for the receiving of both signal and power through one USB cable. This ensures that you can plug it in and it'll be ready to go automatically. Once it is connected to your laptop for the first time, it will install on its own into your laptop and will then work flawlessly from there.
This travel monitor is ideal for those who work in careers that need ultimate display and graphics, such as programmers and developers of games, applications, software, etc.
GeChic Portable Laptop Monitor with HDMI
This portable travel monitor boasts full HD at 1080p resolution with a wide viewing panel display. It's incredibly light, only weighing 1.75 pounds, and has a 11mm thickness to it. It includes anti-glare, HDMI, built-in speakers for sound and VGA connections.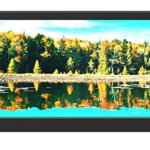 There are no driver installations to this portable monitor, so you can plug it in and have your screen extended and ready to go almost instantly. It's run by a USB-C connector and is fully reversible depending on your needs.
It's powered by a USB, very thin and lightweight, and is completely portable thanks to the included storage case for easy traveling.
Unlike most monitors, you will notice right away that there is zero lagging across the screen, which is great to have in a presentation or screen sharing, for example.
Like the previous monitor that was reviewed, this monitor is fantastic for those with careers that need a monitor of extreme quality for programming, software development, and even the creation of video games.
Thanks to the high 1080p full HD resolution, and the lack of lag, of course, it's a great monitor that is extremely impressive.
Travel Monitor Alternatives
If you use Apple devices, then use an app called Duet which allows you to use iPad as the second monitor. If you have an Android tablet, you can use an app to use the tablet as a separate monitor. The app is called TwoMon USB. Another option is to connect to tablet via WiFi/Bluetooth, but there are screen lags when there are lots of signals in the air. For Android use iDisplay. It's also possible to connect the TV in the hotel room with HDMI connection if you have the cables.
Some coworking spaces also allow you to rent monitors for a fee.
If you're going to live for long-term (3 months or more), then you can also consider buying a used monitor(or even new) and sell it before moving out. You could also post it to your new location if there's an option available.
Some people claim to use projectors as the second monitor while traveling. But don't do that. The resolution will not be sharp enough, and light will bleed out around the room (they are only effective in near complete darkness). Projectors are noisy and will always be blowing hot air. They make too many concessions to allow for portability.
The Best Portable Travel Monitors
Finding the best portable travel monitor for your laptop, and your career choice is very easy. Remember that if a monitor is not light, easy to carry around, and easily connected to a laptop without much of a struggle, it's not a travel monitor.
Written By Noah Smith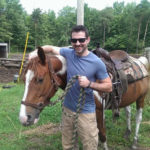 Noah is a freelance writer who has traveled over 32 countries so far. Onebagger is the place where he shares trip details, travel itineraries, planning and booking tips and travel tales. His aim- to help you plan your travel adventure on your terms, choose best travel gear and to your budget.