Are You Looking for the Best Travel Coffee Maker? in 2021
I'm one of those people who can't live without my daily cup of coffee. It gets me up in the morning and makes me feel ready to tackle the day. At home, I turn on the coffeemaker as soon as I walk into the kitchen. It's like a subconscious habit—and a good one at that.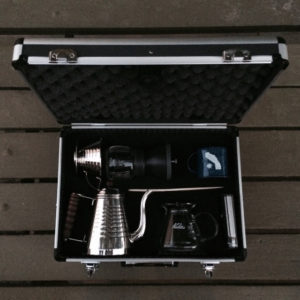 A travel coffee set is bulky
Though the problem with being such a heavy coffee drinker is that it isn't always cheap. At home, I save a ton of money because I have my own personal coffeemaker. I add in my French vanilla cream, and sometimes a teaspoon of sugar and voila! Every cup is exactly how I like it.
Now, of course, nothing really beats a freshly brewed gourmet cup of coffee from my local coffee house, but I'm willing to compromise to save some money—not everyone has 6$ to spend on a latte every morning.
I'm sure you can all relate.
I recently traveled to Deerfield beach in Florida, USA. I planned to stay in a hostel and tour the beaches, enjoy the weather and witness the perks of a typically American holiday.
During the trip, I came across and interesting idea.
I like to make my own coffee!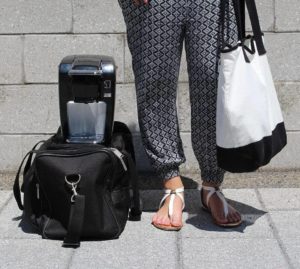 Previously, on my trips abroad, I would end up spending quite a bit of money on my daily coffee cup.
Every morning I was stuck between getting a delicious gourmet cup of coffee or compromising and getting a cheap 'fix' at the closest Starbucks.
Neither was convenient. Sometimes I'd settle for hotel coffee, which isn't always a guarantee if you're staying in a hostel.
So, I thought to myself, why can't I just carry my coffeemaker and brew my cup of coffee every morning? That would save me the time and money of sourcing coffee from all the places I travel to. Genius, right?
But I knew I could carry my bulky coffee maker from home, I was too scared to break it and I didn't want the extra weight in my suitcase. So, I went online and it turns out they have portable coffee makers for travelers. Thank God for the internet!
How to choose a Coffee Maker for Travel
There are hundreds of different coffee makers out there! So it can be quite the hassle to decide which one suits you best. But if you're looking specifically for a travel coffee maker, then there are several factors to consider;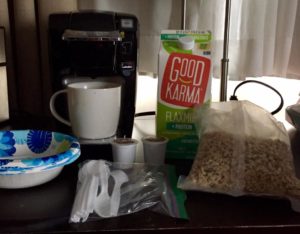 Portability – it's a 'no-brainer'. You have to be able to travel with the coffeemaker. This means that size and weight are huge considerations when making your choice.
Durability – The best coffee makers offer you the most durability, they're simple and easy to use. No need to scan a manual to learn how to brew one cup of coffee.
Cost – Coffee makers cost money, there are no two ways about it. You need the best coffeemaker for the lower price, without compromising quality.
Coffee – this is the most important. You want your coffee to taste exactly how you like it. If you're a fan of Keurig K-cups you may be inclined to buy a Keurig coffeemaker. If you prefer to brew the coffee the old-fashioned way, that's cool too. The choice is yours. In my research, I found two different coffee makers that were perfect;
This Keurig K15 Single-serve coffee maker is to die for. It's small and compact, making it easier to carry and fit in smaller places (which is essential if you're staying in a hostel). The coffeemaker also folds into a smaller more carriable form that you can easily stuff into your luggage. It's also extremely easy to use.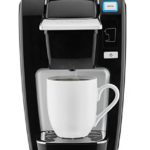 It brews like any regular Keurig for any regular-sized coffee cup. You simply insert the K-cup after the tank is full and watch the magic happen. It does one cup at a time, hence the title 'single serve', which is good enough if you're in travel mode.
Unlike your regular Keurig coffee maker, the K15 doesn't store water in its reservoir. This may be a drawback if you're using the coffeemaker in a home or office setting, but it's excellent for traveling purposes. It means that the machine only brews the amount that is placed within its shallow reservoir. If you know the strength of coffee you prefer, then it'll be a breeze using this coffeemaker.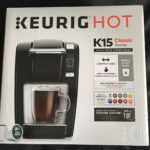 The fact that there is no deep reservoir to store water makes it easier to carry around; you can simply fold it up and throw it in my bag when you're on the move.
The K15 also has a large drip tray to catch any extra water that drips down from each coffee brew—which was so convenient for me. It's perfect to keep things clean and avoid you having to search for napkins when you spill a little water on each brew.
The K15 doesn't have any fancy bells or whistles. In fact, it's not a fancy machine. It's basic and simple and that's why it's so easy and quick to use. Perfect for traveling with.
A Keurig K15 usually goes for 50-70$ if you buy it new. But if that's too expensive for you, I also found another viable option.
The AdirChef is quite different from the Keurig. What I love about it is that it comes with its own custom mug. It's one of those "grab n' go" machines that aren't really made for domestic coffee users but are perfect if you're on the go.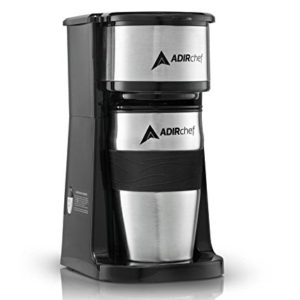 An Adrichef mug comes with every AdriChef machine and already fits perfectly into the coffeemaker. The mug also fits in any cup holder which is perfect if you plan to take coffee with you in your Uber ride or taxi cab. The mug is also well insulated and keeps your coffee hot over a long period.
The coffeemaker itself is small and portable just like the Keurig. It's lightweight and good for tighter spaces. It also has its own filter, which saves you the hassle of running to the store every time you run out of paper filters. I hate when that happens.
Though obviously, the AdirChef is not a Keurig—and OH! how I wish it was. Meaning you must use your own coffee and shovel it into the filter basket. It's not too much of a hassle but when you're used to using K-cups and simply shoving the cup into your coffeemaker, its can feel tedious to brew coffee the old-fashioned way.
What's Best Travel Coffee Maker for you?
These were the two best options I found and I'm sure you're wondering which one I eventually went with. I chose to take the Keurig with me to Florida and I will never regret that decision.
I never went one morning without my daily coffee cup. Not only did I save a bunch of money I also avoided the hassle of having to 'find' coffee in a foreign place.
I remember one morning in my hostel when two other hostel mates asked to use my Keurig. We bonded over our morning cup like we were brothers. It was awesome.
Written By Noah Smith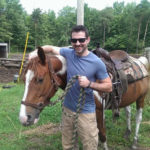 Noah is a freelance writer who has traveled over 32 countries so far. Onebagger is the place where he shares trip details, travel itineraries, planning and booking tips and travel tales. His aim- to help you plan your travel adventure on your terms, choose best travel gear and to your budget.