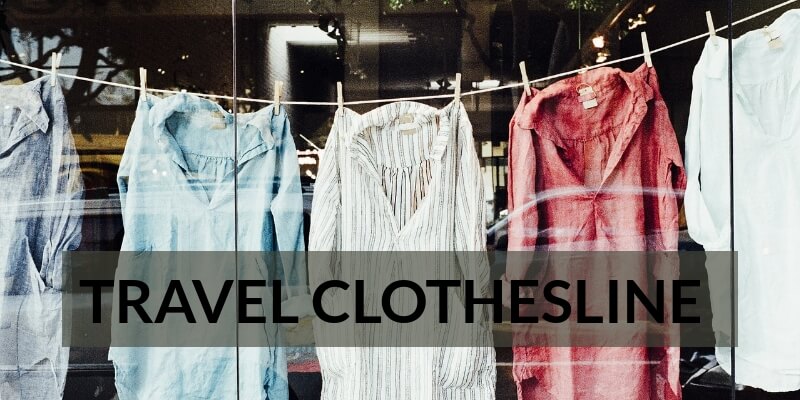 Finding the Best Travel Clothesline for Trips in 2022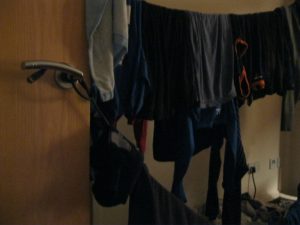 When you hear a word "traveler" the first thing that comes to your mind is an image of a person who is filthy and would have a good use of a shower. But, that's not always the truth. I do travel often, but I manage to keep my clothes fresh and clean even on the go.
Now, I'm not telling that this is easy, in fact, there were times when I struggled to find a proper clothesline but once I did, washing my clothes and drying it became a piece of cake.
And contrary to what most people think, washing your clothes while traveling around the world isn't so hard. For God's Sake, you have only a few items to wash, it's not like you're bringing the entire wardrobe with you. So, stop whining, and learn how to choose a travel clothesline that will make drying your clothes much easier.
Choosing the Best Clothesline for traveling
Here are some things to keep in mind when buying a travel clothesline, so keep reading.
Types of clothesline
Nylon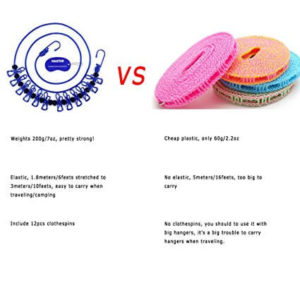 This kind of a clothesline is great if you're looking for strong and lightweight material. In addition, it's water and mildew resistant. On the downside, a nylon clothesline is slippery, so it doesn't provide a firm grip.
Basic plastic
This type of a clothesline is the most affordable one. Its advantages are that it's waterproof and easy to clean. So, you can use a cloth to wipe off dirt and mildew, so that you can hang the clothes without worrying if it's clean enough. The downside of a plastic clothesline is that's very thin, so clothespins won't hold as tight as they would with thicker materials.
Cotton clothesline
Many people consider this type of a clothesline the best one. It's strong, although weaker than nylon, but it will still hold up well. The price is same as with nylon, so it's up to you which one you will choose.
Length
Another thing to keep in mind is the length of a clothesline. Since you'll use a travel clothesline for only a few piece of clothes, you don't need 35 feet of line. You'll be fine with 10 feet because anything above that will make a clothesline sag.
Weight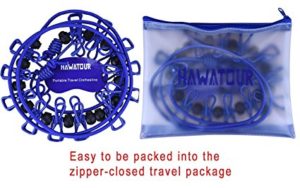 Another thing that you should remember is that your clothesline will stretch out with time, due to the weight of wet clothes. So, make sure you always tie the knot well in order to pull the line tight.
A carrying bag
The last thing to have in mind is that you need to buy a carrying case or bag so that you can store the clothesline when you need it. That way, you'll keep the clothesline protected, and at the same time, you'll save space in your backpack.
Best Travel clothesline - Hawatour Portable Travel Elastic Clothesline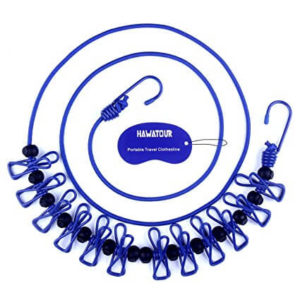 After using different clotheslines I discovered this one. And indeed, Hawatour Portable Travel Elastic Clothesline is really the best one. Who would think that creating a clothesline requires so much time and thinking, huh? But, Hawatour definitely thought about everything and created just what we need.
Don't you just hate when you're trying to spread the clothes on a clothesline, and it keeps sliding to the center? Well, that won't be a problem anymore. Thanks to a clever design of this clothesline that has black clips, the clothes won't slide. On the other side, you can move the black clips from right to left, and vice versa in order to keep your clothes well organized.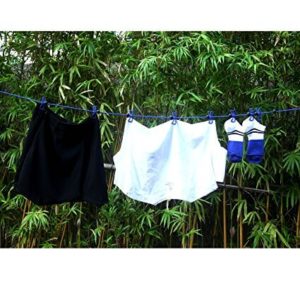 Another great thing about the design is that the clothesline can be used in humid, wet, hot and dry environments. This means that it's perfect for both indoor and outdoor use. But, if you're a traveler, you'll be happy to hear that you can carry this clothesline on your boating, camping, river, fishing and another kind of trips.
But, what I really love about this clothesline is that it comes with steel hooks on both sides. Thanks to that, you can attach it anywhere. For example, attach it to the trees and voila – your clothes can dry. When the clothes are dry, you can store this clothesline in your backpack. Speaking of that, the clothesline is retractable, so it saves space.
When it comes to the length of the clothesline, it stretches up to 10 feet, ensuring you quite a space for drying your clothes.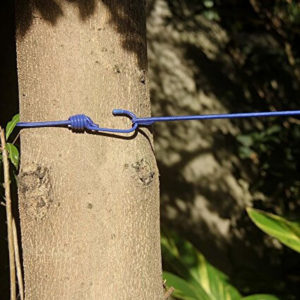 And as for the quality, the clothesline is made of stainless steel, ensuring years of use without rusting and breaking. As a proof, you even get a 1-year warranty on the clothesline. Also, in the case of malfunctioning parts or faulty, you will immediately get a new clothesline or refund. Now, how's that for reliability.
Oh and I almost forgot. Believe it or not, the clothesline is available in five different colors, so you can pick your favorite. How cool is that?
Costing less than $10, this clothesline may not be among the most affordable ones, but it definitely is among the best ones. Needless to say, this clothesline is worth every penny and you will love it. So, why not make drying your clothes natural and easy with this handy accessory?
Conclusion
Well, that is all. Even though you may think that choosing a clothesline is a simple task, as you can see, there are still some things to consider. And if you don't want to spend your precious time on finding the best travel clothesline, I advise you to go with the one that I mentioned. That clothesline is the bestseller on Amazon with good reason, so take the advantage of it and shop smartly.
Written By Noah Smith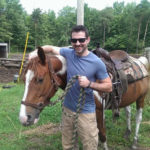 Noah is a freelance writer who has traveled over 32 countries so far. Onebagger is the place where he shares trip details, travel itineraries, planning and booking tips and travel tales. His aim- to help you plan your travel adventure on your terms, choose best travel gear and to your budget.