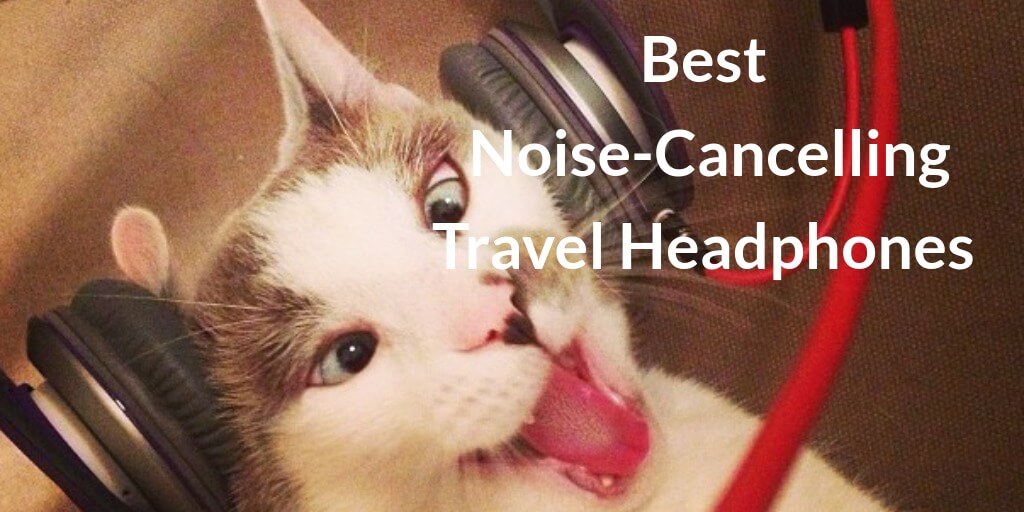 The Best Noise-Cancelling Travel Headphones for Airplane in 2022
If you are anything like me then you can't leave your house without headphones, let alone go on a trip without them. With good headphones, every moment of your trip will be more enjoyable and more comfortable. So, why settle for less, when you can have that?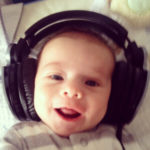 For me, there is nothing better than watching the sunset while listening to my favorite song "The Lady in Red". Men, I just love those moments, when everything stops and I enjoy the breathtaking view in a new place.
So, for all of you audiophiles and travelers, this article will show you how to get the best travel headphones.
How to buy Headphones for Travel Guide
Here are some things to pay attention to, if you want to get good quality headphones and enjoy music like never before. Your ears deserve the best!
Types
There are many types of headphones, but I use only on-ear and in-ear models, so I will talk only about them.
On-ear headphones
This model is designed to be placed directly on your ear, allowing for a great listening experience and better noise cancellation. They don't weight too much and can be very comfortable if you opt for a good quality model.

In-ear headphones
Well, I think that I don't have to explain this type much because you probably have it. This model is perfect for easy storing and simplicity, as it takes up little space. Of course, the sound quality is not as good as with on-ear headphones, but that's due to its size and design.

Comfort
First and foremost, your headphones should be comfortable. If we are talking about an in-ear design, look for a model that comes with soft silicone ear tips. Not only that, but the headphones should fit perfectly to your ears, preventing them from falling off every minute (which can be quite irritating when you're trying to get the most out of your trip or vacation).
On the other hand, if we are talking about on-ear design, the headphones should not put too much pressure on your ears, because that will be painful (obviously) and distracting.
Battery life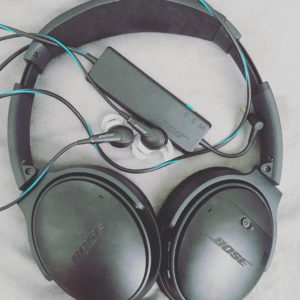 Whichever type of headphones you opt for, you would probably want a decent battery life. Naturally, if you want to buy high-end headphones, you will get a battery that lasts longer.
But, if you are not in a mood for spending too much money, then you will be fine with a 5-hour battery life (and it's not like you have a choice anyway).
Bluetooth connection
Another thing to keep in mind is the connection. Trust me, you NEED to have a strong and reliable Bluetooth connection, otherwise, the sound will cut out every once in a while and that is NOT COOL at all.
Noise cancellation
When traveling to different countries, you will be surrounded with people all the time, which makes listening to your music a tad more difficult, due to the noise. Which is why you need to buy headphones with a noise canceling feature. Thanks to that, you will be able to hear the words clearly and fully focus on music.
Best Travel Headphones
As an audiophile and a person who travels a lot, I've tried many headphones, in order to find what suits my ears best. And I have found it! So, here are my favorite models which I strongly recommend you, because they won't let your ears down.
In-ear Bose QuietComfort 20 Travel Headphones Review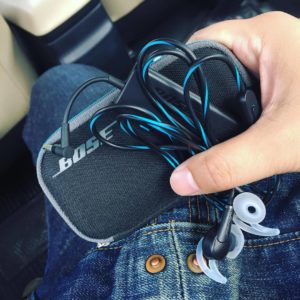 Bose is my favorite brand when it to comes to audio devices. This is an in-ear model that turns words and sounds into a magical listening experience. I really love all about this product.
Well, not all of course, because no product is ideal, but this model is worth every penny.
First, it is comfortable, thanks to the convenient size of ear tips. Compared to some other headphones on the market that I've tried, this one is very friendly to my ears. So, no more pain while listening to the music.
In addition, I really love the good quality sound that this device delivers. The sound is rich and clear, and a noise-canceling feature works great, so I can lose in the music and feel the rhythm wherever I am. Now, I am not someone who cares a lot about the look, but I love the simple and stylish look of this model.
All this is great, but what impresses me the most is the battery life. It lasts for hours, so I don't have to bother with charging, in the middle of my trip.
However, what I don't like is ear tips quality. Since they are made of flexible material, they will loosen up after some time. All in all, this unit is a good choice for trips, so you can't go wrong with it.
On-ear Bose QuietComfort 35 Noise-Canceling Travel Headphones Review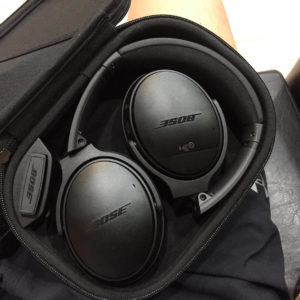 Now, this is a product worth mentioning. The on-ear Bose headphones make easy work of listening to every sound. Thanks to their design, and a noise-canceling feature, you won't hear the environment noise.
A 20-hour battery life is just AMAZING. I mean, how crazy is that? The battery is so great that I usually listen to the music for hours.
The black color and a nice finish make the headphones attention-grabbing, so I feel kinda cool when wearing them.
As for the sound, this is as good as you get with this price. Meaning, you get a top-notch sound quality, thanks, to the volume-optimized EQ.
The Bluetooth connection is reliable and strong, which is one more reason to buy this model. However, what I didn't like very much (and neither will you) is a high price. But, once you get this model, you will forget about that, because the sound and comfort are just that good.
Buy Bose QC35 Headphones Online
Conclusion

Well, my friends, it's time for me to say goodbye and lose in the world of music. And, if you ask me, you should do the same. Only with good quality headphones will you realize the beauty of highs, mids, and lows, so buy the best possible headphones for your ears.
Written By Noah Smith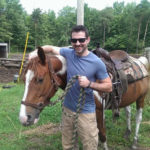 Noah is a freelance writer who has traveled over 32 countries so far. Onebagger is the place where he shares trip details, travel itineraries, planning and booking tips and travel tales. His aim- to help you plan your travel adventure on your terms, choose best travel gear and to your budget.