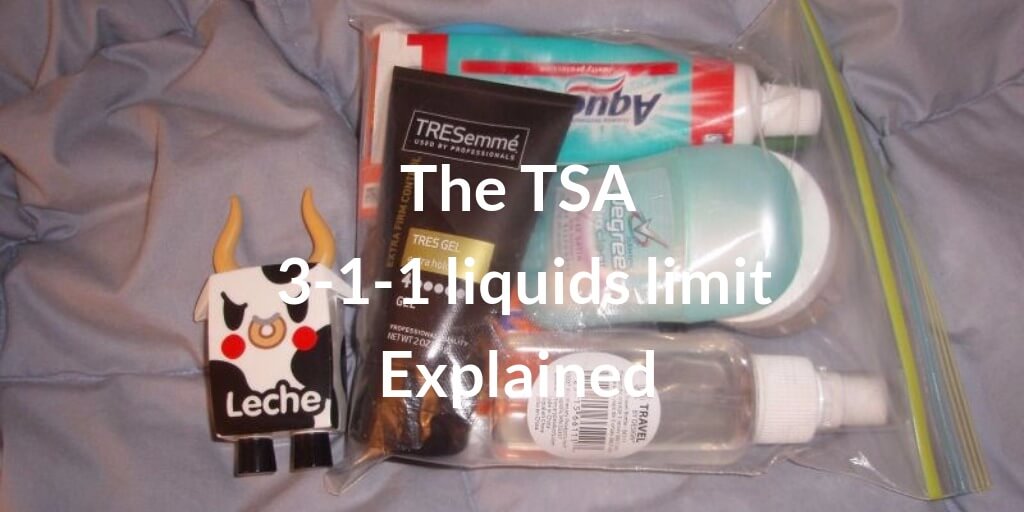 Trouble Free Flying - the TSA 3-1-1 Liquids Limit Explained in 2022
An unfortunate truth about modern-day travel is the security risk. There are people out there who are quite willing to blow up planes and airports – and you, if you happen to be there!
So, thank heavens for security measures and for the TSA (Transportation Security Administration) whose sole purpose is to stay a step ahead of the "baddies" and to keep you safe. They have come up with rules for what you must do at airports and on flights – many of them in direct response to actual security risks.
What are the 3-1-1 liquids limits?
In August 2006, terrorists planned to use liquid explosives to blow up at least 10 planes on Transatlantic routes between the UK and the USA and Canada. Fortunately, this was foiled by the British police. The TSA then banned all liquids, gels, and aerosols from carry-on luggage.
A month later this ban was revised into the 3-1-1 rule: 3 = 3-ounce containers or smaller 1 = one quart-sized clear plastic bag 1 = one such bag per passenger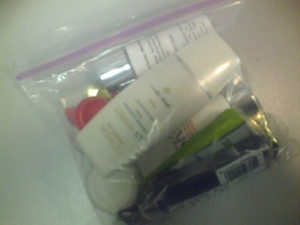 This rule applies to carry-on luggage. Larger sizes may be packed into checked-in bags.
According to this rule, any liquid or gel must be in a container that holds no more than 3,4 oz or 100ml. So, you will have to buy small sizes for travel, or decant from larger containers into smaller ones. You can't carry on larger bottles or containers, even if they are nearly empty.
All your small containers must fit into a see-through plastic zip lock bag. The volume of this bag is 1 quart (.95L) and the dimensions are 7in x 8in (17.8cm x 20.3cm).
Each passenger can carry only one such bag and must be able to close the zip. You must take this bag out to declare it at the security checkpoint.
As you can imagine, a myriad of offers is now available for you to buy small sized containers in perfect size bags! Check out these offers online.
What liquids are we talking about?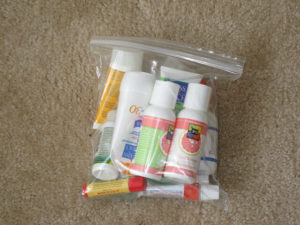 The rule applies to all liquids, gels, aerosols, creams, and pastes. It includes personal care items such as toothpaste, gel deodorants, shampoos, shaving creams, and lotions. It also includes consumables such as bottled water or juice, jams, peanut butter, cheeses, jellies, spreads, dips or syrups.
If you have gel inserts, for example in your shoes, these must be removed and screened separately. Gel candles and snow globes are not permitted at all.
These items will also be allowed in your checked baggage. However, flammable liquids and chemicals like bleach or chlorine are completely banned.
Are there any exceptions?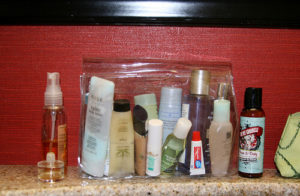 Yes, there are exceptions if you need to carry additional liquids for babies and if there are medical or cosmetic reasons for doing so. This would include gel, saline or other liquids in mastectomy products, prosthetic breasts, bras or shells.
For babies, you may bring formula, breast milk or juice in larger containers. You are also allowed to bring gel-filled articles like teething rings. Pack these items in a separate see-through bag and declare them at the security checkpoint. You may be required to have them pass through additional screening, and you may even be asked to pour out some for testing.
If you need other liquids for medical reasons, they should also be packed into a separate see-through bag to be declared at security. This might include prescription and over the counter medications; or it may be extra water or insulin for diabetics. It is a good idea to carry a copy of the doctor's prescription with you.
Pack most of this into your checked baggage and only carry enough for the flight in your carry-on baggage.
Carry-on Bags are best for Traveling
Take note of these restrictions
Airport security staff are very sticky about these rules. Don't buy a large bottle of water or juice and expect to carry it onto the plane – have a look at the big bin of abandoned bottles at the security point! Don't think you can sneak through a larger size of face wash or night cream! Everything lands in the bin!
If you think that this is a lot of hassle – remember it is for everyone's safety!
Written By Kate Mark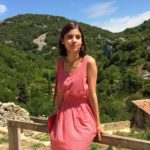 Kate is a mid-lifer who quit a growing corporate career to reawaken her passions and her lifelong dream of traveling the world.