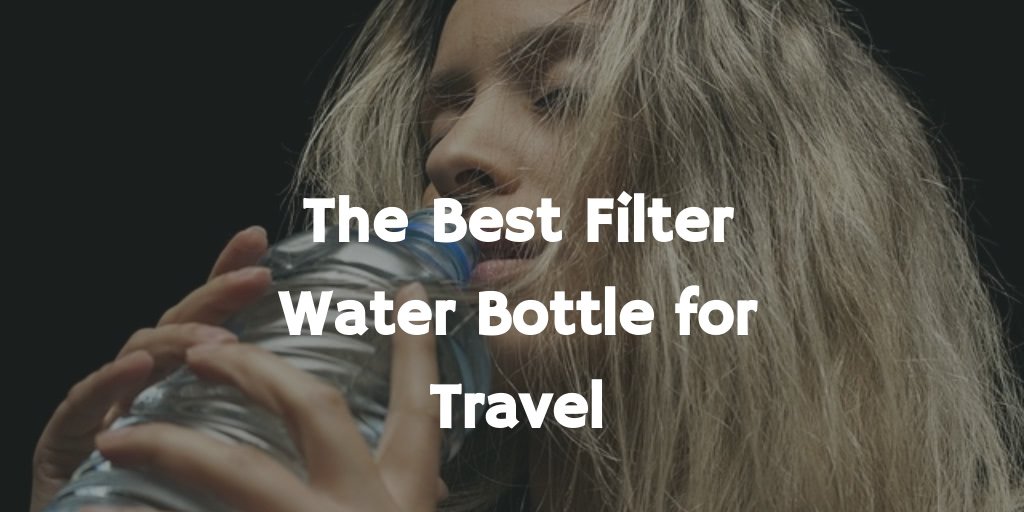 Purify Water in Seconds With This Bottle Filter While Traveling in 2022
Traveling has always been the best way to expand my horizons and meet new people and cultures, as well as to relax and escape mundane life.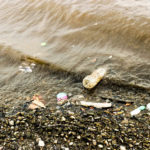 For me, every holiday, no matter how small, is a treat. Be it a camping trip, a visit to a new city, or a visit to the sea or mountains. I'm sure many people all around the world feel the same way.
So, on that note, we all know that traveling anywhere requires packing. And alongside your clothes and accessories, we're all (hopefully) aware of how big of a necessity water is. I'm sure everyone remembers to pack a bottle of water with them.
But the thing is: what happens after you drink the bottled water? Sometimes you're not in a situation to buy more, or if you are, you may be in a foreign country where the water is different. This is especially true for tap water.
I remember when I just started traveling and knew nothing about water filters. I went on a camping trip and I had emptied all my pre-bought water bottles. There was a stream nearby, and naturally, I thought it would be a good idea to refill them there. It wasn't.
I ended up having horrible stomach cramps and puking the next morning. Sure, the water from the stream was clean, but it wasn't filtered.
And that's when I asked around and searched online for a solution.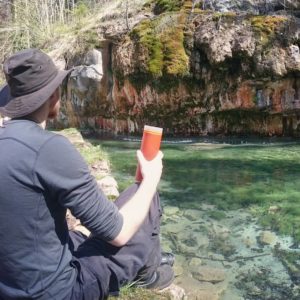 So I got introduced to water filters. Then I realized I couldn't just buy any filter because not all of them were good or the same quality, and have had the negative experience, I spared no expense. No money is worth your health.
And that's why I decided to write this article. Other travelers and adventurers shouldn't have to go through what I did. It's always smarter and safer to have a water bottle filter with you.
I'll be giving you an introduction to what water filters do and how, and I won't forget to analyze the best one out there (according to me) - GRAYL Ultralight Water Purifier.
What are you actually filtering?
There's so much talk about water being filtered and you've heard you're not supposed to drink it unfiltered, but do you really know why?
There are a few things that need to be filtered before the water can be consumed: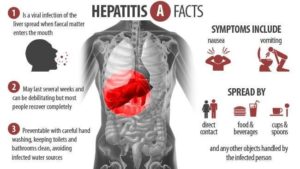 Bacteria and parasites: Quick biology lesson: these are microorganisms which live in our water and can have a negative effect on our bodies (vomiting and diarrhea being examples of one of the worst things they can cause). For obvious reasons, we'd better filter them out.
Virus: Some would argue that viruses are the same as bacteria, but the main difference, relevant to filtering, between the two is that viruses are hundreds of times smaller than bacteria. This makes them a challenge for some water filters.
Harmful Chemicals: We'd also want to filter out chemical compounds. These can be organic, such as disinfectants and pesticides, and inorganic, such as chlorine, copper, fluoride, and arsenic. These come into contact with water in many ways, for example through minerals or thanks to many different actions people are responsible for. In any case, none of these are good for your health.
Most common types of Water Filters
There are two types of water filters which you're most likely to come across.
UV Filter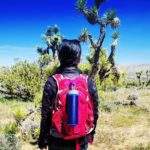 It's not used as often as the other one because it's a tad more expensive but that's not without a reason. They work by using the power of the ultraviolet light to destroy viruses and bacteria. They're far better for sterilizing water and removing the aforementioned parasites. They don't really do a lot about chemical compounds though, and they do not alter the taste of water either.
Carbon Filter
It is used widely across the world for a very clear reason: it's more simple yet effective. They contain a layer of active carbon through which the water passes, thereby removing unhealthy components. If the filter is made finer, it can filter smaller components. Carbon filters need to be periodically replaced as they wear out. They're better for filtering out chemical compounds.
You can also combine these two filters and really clean your water thoroughly.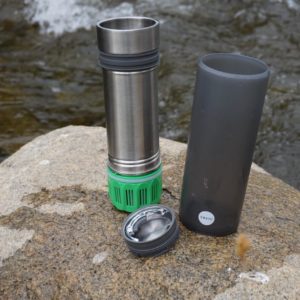 Now that you're more acquainted with what water filters are, I can introduce you to the one I fell in love with. I've had experiences with water filter bottles which take ages to do their job and are too complicated to operate.
They're just not worth a penny, 'cause they occupy more of my time than they should. I mean, I'd die of thirst before they were done filtering.
And then you have this baby which doesn't need more than a push to do its job in an instant! I like that it doesn't need anything extra to work. No batteries, UV bulbs, or anything similar.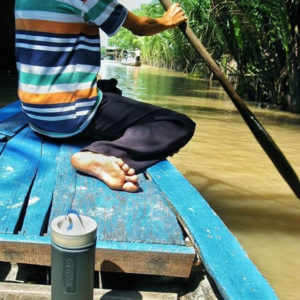 But I think the main reason I'm so mad about it is the fact that it removes absolutely everything dangerous. Like, it kills all of those pesky viruses and bacteria which make you sick. To think that I could have contracted Hepatitis A or Salmonella without it! I owe my health on my trips to this little buddy.
It also does well with removing chemical compounds and makes the water so much clearer and tastier.
There are too many things to carry on my back as it is, and a heavy water filter bottle would just slow me down.
That's why I and the GRAYL Ultralight Water Purifier don't part. It's super light, even when full. Sometimes I need to check if I brought it, 'cause I can't feel it!
Make Your Trips Safe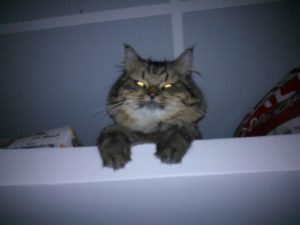 Why You No Filter?
As you can see, it's not something you need to think about long and hard. My view on life is that health always comes first, and that's my advice to you as well.
Why not test the GRAYL Ultralight Water Purifier on your next journey? Experience for yourself the wonders of clean and healthy water!
Written By Noah Smith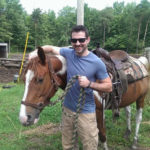 Noah is a freelance writer who has traveled over 32 countries so far. Onebagger is the place where he shares trip details, travel itineraries, planning and booking tips and travel tales. His aim- to help you plan your travel adventure on your terms, choose best travel gear and to your budget.