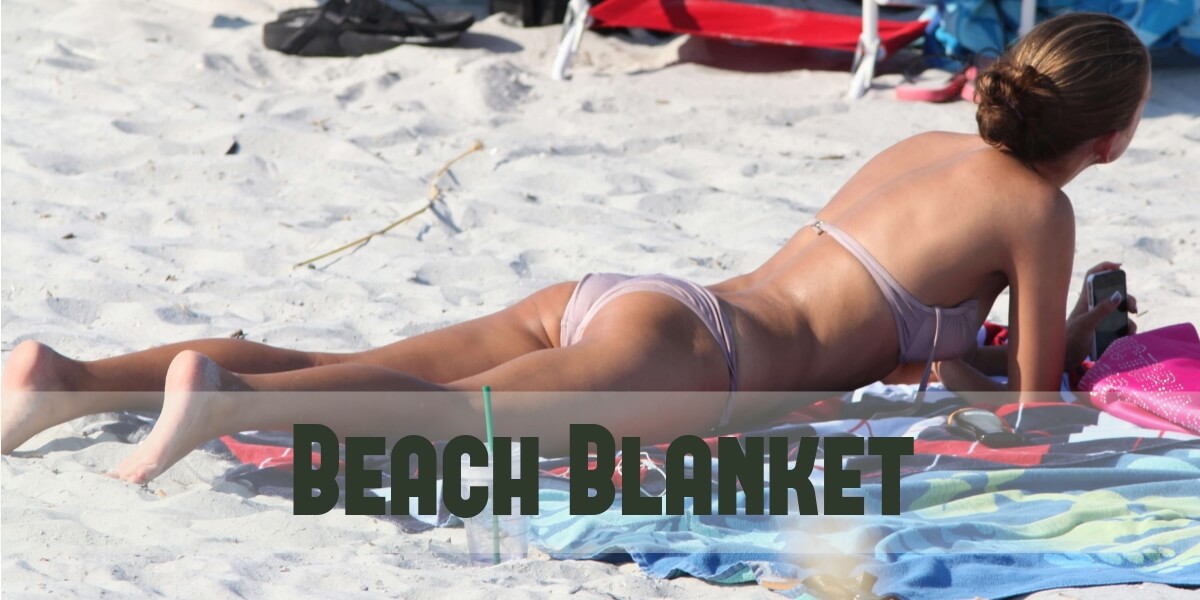 Relax and Enjoy the View With a Parasheet Beach Blanket in 2022
Whether you want to spend a relaxing day at the beach, in the woods, or in the hotel room, you should buy a parasheet beach blanket. And relax; this blanket isn't only designed for the beach.
People use it for different purposes, due to its great design. This beach blanket is durable, and practical, and will be a nice place for you to relax.
In this article, I'll talk about three best parasheet beach blankets, so keep reading.
3 Best Parasheet Beach Blankets Reviews
There is an array of beach blankets on the market, so choosing a good one for your needs (and your wallet) can be pretty frustrating. Luckily, I'm a good person so helping others is what I do.
After researching, I was able to come up with this handy list of three best parasheet beach blankets. Naturally, they all have the good and the bad sides, but they are surely worth your money. Let's take a look at what each one of these beach blankets offers.
Grand Trunk Parasheet Beach Blanket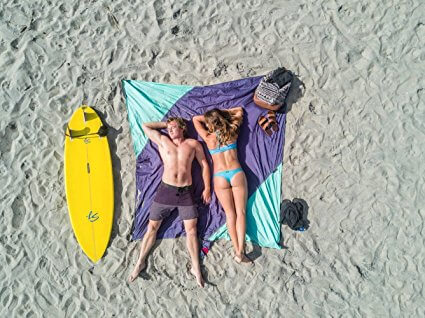 Being Amazon's choice, this parasheet beach blanket has got much to offer, from spaciousness to a clever design.
The Grand Trunk Beach Blanket will surely make your day on the beach more relaxing and blissful. You can focus on reading that novel, or simply watch wonderful, blue sea without worrying about sand being all over your stuff.
This beach blanket is made of 100% Nylon, thus it's both water resistant and sand proof. In addition, it's durable and won't wear and tear. You will use it for many summers to come.
What's more, the blanket dries very quickly. Thanks to that, the blanket beneath you will always be dry, so you won't catch a cold (yes, it's possible to catch a cold in summer).
What I love about this blanket is that it's large, measuring measures 7' x 7'. So, you'll have enough space for all your stuff, so that you feel comfortable all day long.
However, don't worry about storing it. It won't take up much space. In fact, it compresses to 8.5" x 4.5" dimensions. So, when that beautiful day at the beach come to an end, just pack the blanket into the provided stuff sack, and you're good to go. As simple as that.
This cute blanket comes in nine color variations, so you can choose the one that matches your mood and personality.
The icing on the cake is that you can wash the blanket in the machine.
Pros:
Sand proof
Water resistant
Large
Quick drying
Durable
Easy to store
Cons:
WildHorn Outfitters Escape Beach Blanket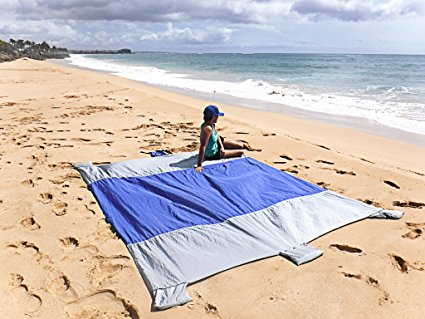 Now, if you're looking for a versatile and practical parasheet beach blanket, this is just the thing you need.
This beach blanket is 20% larger than similar models on the market. Because of that, it's perfect for a big family or your friends. It has enough space so that every one of you can feel nice and enjoy the day.
Whether you want to use this beach blanket at the beach, on a picnic, or while hiking, you'll appreciate its design. With four anchor pockets, it will withstand wind and sand. But, it's not waterproof.
One of the best things about this blanket is extra storage. It features a few pockets, including a front one, so that you can keep your valuables within easy reach, yet far away from wrong hands. It doesn't get any better than this, for this price.
In addition, this blanket is made of 100% parachute nylon. Meaning, it's lightweight and breathable. Add to that durability and sand resistance and you can see why this product is among the best ones.
Pros:
Versatile
Large
Compact
Made of nylon
Sand proof
Handy pockets for keeping your valuable on safe
Cons:
Meerkat Compact Beach Pocket Blanket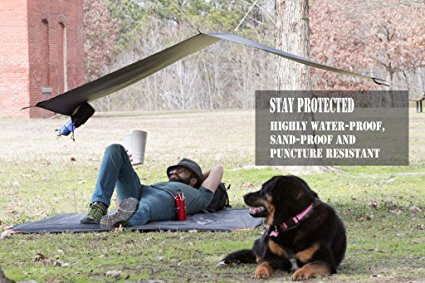 Meerkat Beach Blanket is great for those on a budget. Considering its price, this blanket offers great features. It's durable, compact, lightweight, and reliable. It's tested by outdoor lovers, long-term backpackers, and travelers which means that this blanket is recommended by experts.
So, whether you want to use it on your hiking trip, or your trip around the world, you'll be more than happy with its quality.
Compared to previous two models, this one is most durable. This is due to 100% high-density nylon that features a PU coating. Thanks to that, this beach blanket is water-proof, sand proof, and scratch resistant. No doubt that it will last you for years.
Furthermore, this parasheet beach blanket is comfortable and practical, so you won't have to buy additional sheets and covers. With its size of 7X4.8', this blanket is great for two people that want to lie down or for 4 people who want to sit comfortably. Either way, you will also have more room for your belongings, so don't worry about it.
The blanket packs to the size of your palm, so you can put it in your backpack. It weighs only 5.6 ounces so it won't add much weight to your luggage.
On the downside, this blanket doesn't feature anchor pockets. But, it does feature loops for stakes.
Pros:
Packs to the size of a palm
Can fit in your backpack
Great for beach, hiking, picnics, and even hotel rooms
Affordable
Cons:
Doesn't come with anchor pockets
The Final Word
Parasheet beach blankets make easy work of keeping your blanket clean and sand-free. These blankets are great for the beach, but can also be used for picnics, and hiking. So, buy one of these for you and enjoy your day in nature to the fullest.
Written By Kate Mark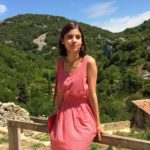 Kate is a mid-lifer who quit a growing corporate career to reawaken her passions and her lifelong dream of traveling the world.