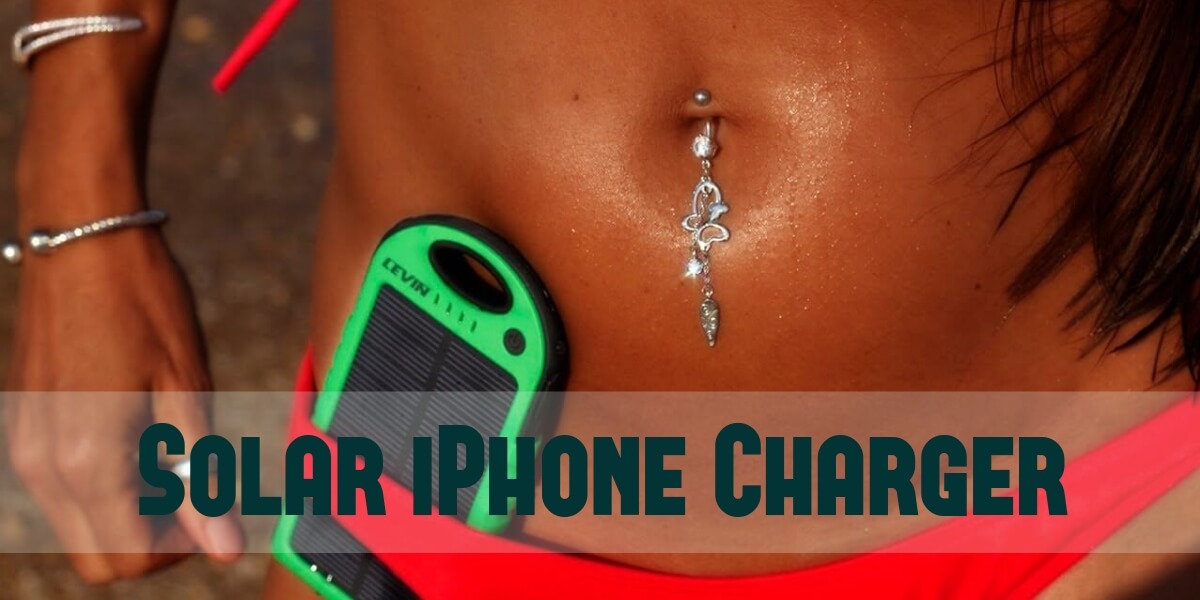 Charge Your Devices on the Go With a Solar iPhone Charger & Case in 2022
Whether you've decided to do some outdoor activities with your friends, go on a weekend trip, or on camping, you need a solar charger.
This remarkable device will keep you worry-free when you're far away from home and your mobile phone is the only connection with the world. With this unit by your side, you will easily charge your devices on the go, so that you can completely enjoy nature and outdoor activities.
3 Best Solar Chargers for iPhones
Anker 21W Dual USB Solar Charger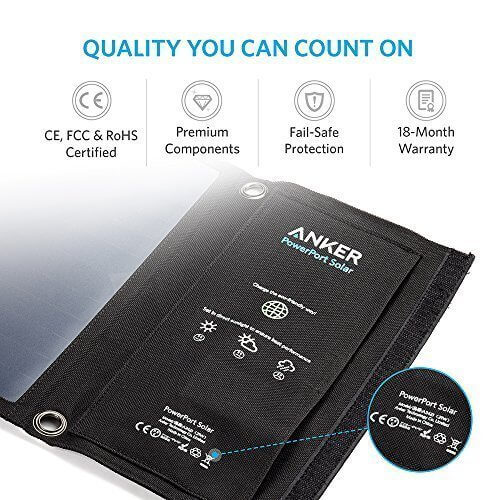 The Anker Solar Charger is one of the best solar chargers on the market. In addition, it's Amazon's choice. If you're after high-quality, then this might be just the thing you need. This solar charger is a great choice for hiking and camping. It's created with high functionality in mind. Thus, it is durable, efficient, and portable.
The rugged polyester canvas protects solar panels, making this charger weather resistant. Because of that, you can hike with confidence, not having to worry about bad weather damaging this unit.
Thanks to the multilayer panels and superior technology, your devices will charge much faster (compared to similar products on the market). Since this unit is powerful enough, you can use it to charge two devices at the same time.
Moreover, this unit is portable. With its compact size (11.1 × 6.3inches folded or 26.4 × 11.1inches opened), and lightweight, this unit will perfectly fit into your backpack. In addition, it features stainless-steel holes on every corner, so you can attach it to the backpack, or a tent.
The icing on the cake is an 18-month warranty that confirms a top-notch quality of this solar charger.
On the downside, for some reason, this unit stops charging a phone as soon as it's 80% charged.
Pros:
Compact and lightweight
Charges two devices at the same time
Durable
Comes with an 18 months warranty
Cons:
Will stop charging a device when it's 80% charged
Solar Charger by Dizaul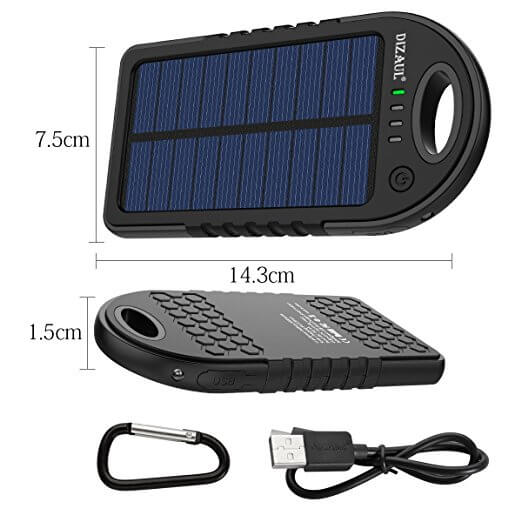 The Dizaul solar iPhone charger & case is for those who don't want to spend too much on a solar charger. Obviously, it's not as quality and durable as the first model. But that's not a bad thing; it's what makes it a good choice for occasional use.
What I love about this unit is its clever design. This solar charger is well-protected, thus can withstand the perils of weather and nature.
A football grain design ensures the charger doesn't slip from your hands. Also, this solar charger is water resistant hence it won't get damaged by a few drop of rain. The USB ports are protected by rubber caps in order to prevent the water getting in there.
In addition, this unit is shockproof. So even if you accidentally drop it, don't worry, it'll be fine. This is a useful feature especially when you're camping or hiking.
As you can see, for an affordable solar charger, this one is well made.
This unit is lightweight and small, so it takes much less space than the first model. It also comes with a hook, so you can hang it on a bag, backpack, or a tree.
On the downside, the solar panel isn't big, making this unit much less efficient than it should be. In other words, it takes much time to charge devices.
Pros:
Water resistant
Well protected
Shockproof
Lightweight
Small
Affordable
Cons:
Charging takes too much time
Not for everyday use
Portable Solar Charger from Teryei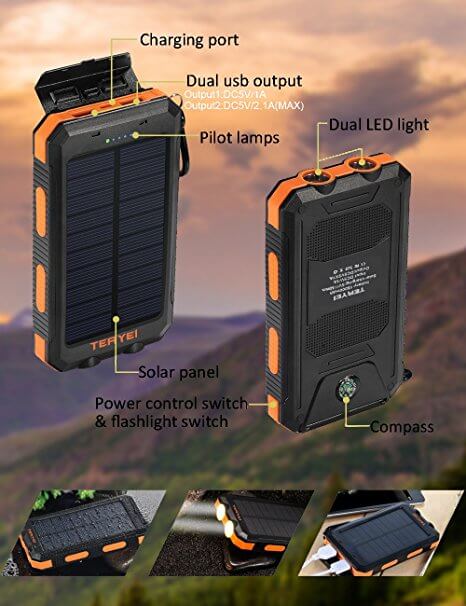 With this solar charger by your side, enjoying outdoor activities will be effortless. The Teryei Solar Charger is created for those who love power and simplicity. Offering great features, and reasonable price, this unit is a real deal.
The great advantage of this unit is its large capacity. With 15000mAH, it can charge Samsung S7 six times, iPhone 5 five times and iPod two times before it needs to recharge. Also, it can charge two devices simultaneously.
But the best feature that I love about it is that you can charge it in different ways. This includes charging by outlet, solar, lamp or USB cable. This makes it a great choice for everyday use, as well as for hiking, camping, and traveling. Just note that the DC input will charge the solar charger faster, within 6 hours.
As for the construction, this unit is well-built and is sturdy. It's made of ABS + PC material, eco-friendly silicone rubber, making this charger dust, water, and shockproof.
In addition, it has a metal hook for hanging and comes with LED flashlight.
On the downfall, the instructions aren't so simple and concise, so it might take you some time to figure out what great features this charger offers.
Pros:
Provides a great value for the money
Sturdy
Multi-functional
Powerful
Can be charged by solar, outlet, via USB and Lamp
Cons:
The instructions aren't easy to understand
Final Thoughts
Now that you've read this article, you can choose the best solar iPhone charger & case for your needs. Thanks to this handy unit, you can go wherever you want and feel secure because you can always charge your phone when in a need.
Whichever one of these three solar chargers you choose, you'll be happy with its functionality. In my opinion, the first model is the best one, as it really offers top-notch quality and features. However, I understand that not everyone needs so expensive solar chargers, so I also gave you other options. I hope you enjoyed this article and good luck with your new solar charger.
Check out sawsview
Written By Noah Smith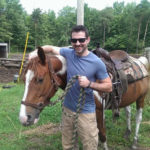 Noah is a freelance writer who has traveled over 32 countries so far. Onebagger is the place where he shares trip details, travel itineraries, planning and booking tips and travel tales. His aim- to help you plan your travel adventure on your terms, choose best travel gear and to your budget.