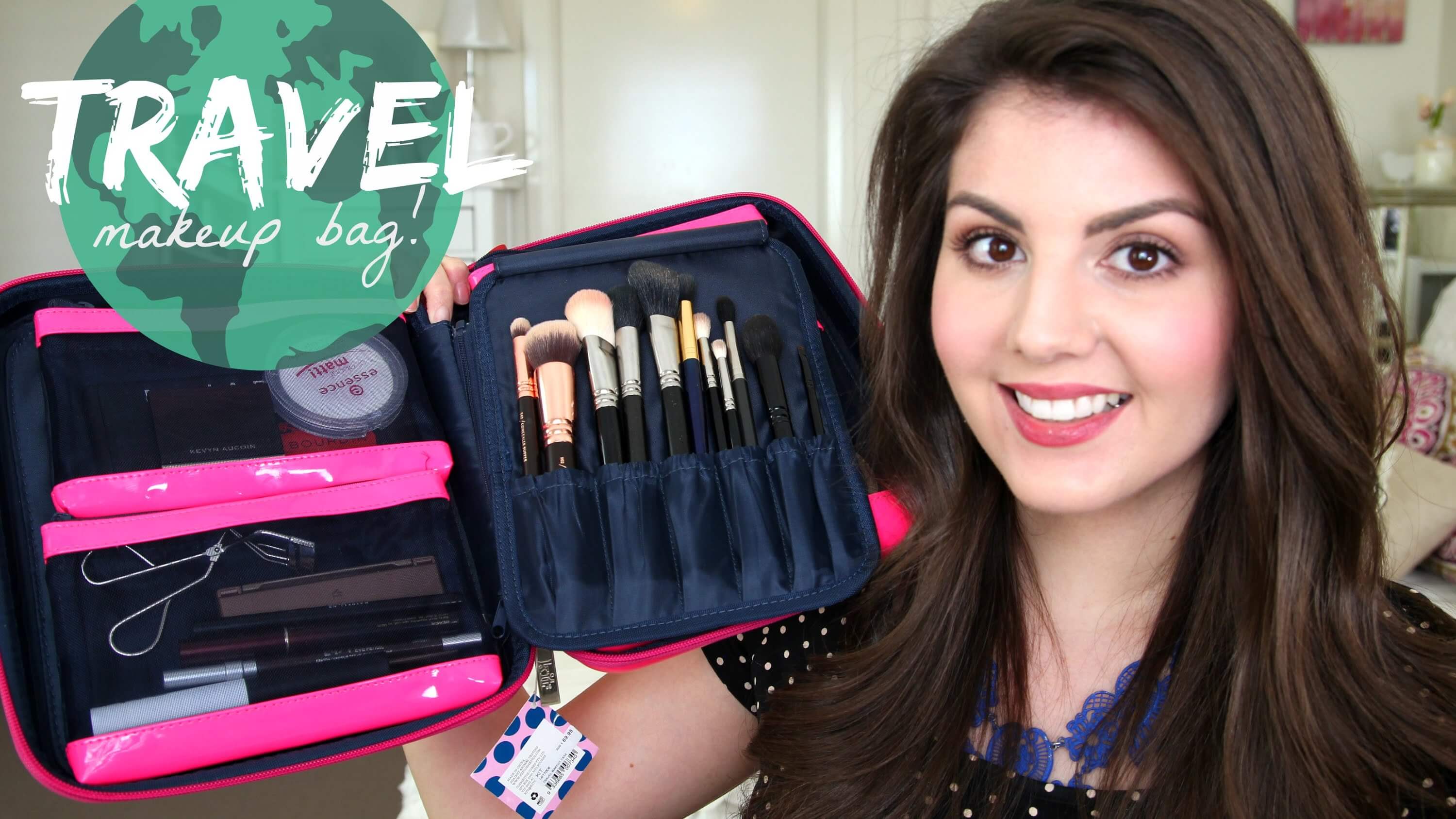 Look Perfect in Every Moment (Buy a Travel Makeup Case) in 2022
When you're busy and are going from place to place, it's a challenge to look perfect. This is even harder when you have many makeup items to think about. A bronzer, highlighter, lipstick, foundation, eyeliner, eyeshadows, mascara, different makeup brushes, and nail polish – where to keep all those things?
Well, in a travel makeup case. Thanks to it, all your makeup accessories will finally be organized and, more importantly, in one place. Just imagine not having to look all over the room each time you need some of your makeup items. That would be such a relief, wouldn't it? So, buy a cosmetic case, for God's sake. In this article, I bring you reviews on three best travel makeup cases, so stick with me.
3 Best Travel Makeup Cases
With all those cosmetic cases out there, choosing THE ONE is so damn hard. So, I decided to help you out and do that for you. After a bit of research, I came up with this list of affordable and practical cosmetic cases. So, be my guest and keep reading.
ROWNYEON Travel Makeup Bag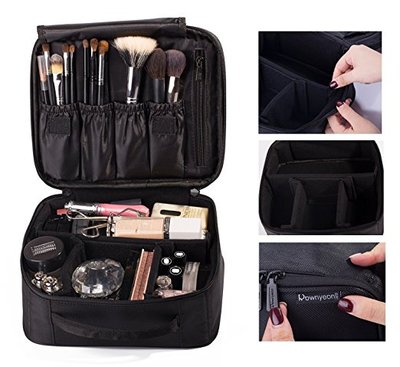 My first choice is also Amazon's choice. The ROWNYEON Travel Makeup Bag is arguably the best cosmetic case for travel. With its spaciousness, durability and a great price, this travel makeup case is really hard to beat.
One of the most important features that a cosmetic case needs to have is durability. Clearly, this unit has that. It's made of good quality materials, making this case waterproof, shake proof and spill proof. So, you don't have to worry whether your makeup items will get damaged in transport. What also contributes to your items' safety is the padded interior. It keeps items safe and sound all the time.
In addition, this case features smooth zippers and the plastic cover. Because of that, the case is sturdy but at the same time is easy to use. You'll have quick access to your makeup when needed. What make this unit one-of-a-kind are its compartments. Namely, you can personalize it. That's right. Padded dividers are adjustable so you can create more space, based on your needs. Thanks to that, this makeup case is a good choice for both home and travel use.
With dimensions of 9.8" x 9.1" x 3.5", this unit gives you ample space for your makeup tools and accessories. However, there is one downside of it. Lipsticks cannot fit where they should. But, this isn't a big deal.
On top of all, this cosmetic case is easy to carry around. More importantly, it's safe. A reliable hand strap will give you convenience and peace of mind, keeping your makeup safe and within reach. What more could you ask for?
Pros:
Spacious
Great for home and travel use
Durable
Well-built
Keeps your makeup items organized and protected
Affordable
Cons:
A lipstick can't seem to fit where it's supposed to
Cadtog Hanging Toiletry Bag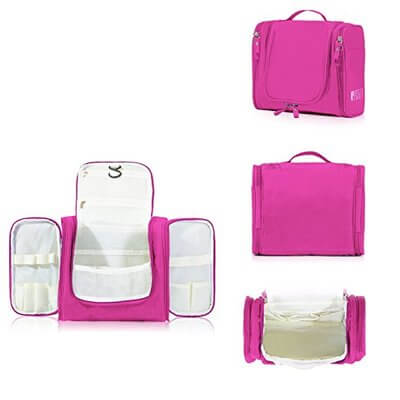 The Cadtog Hanging Toiletry Bag is a great choice if you don't have an array of makeup items. With its cute design, this cosmetic case will bring colors to your day (and for your skin wherever you are).
With well-organized pockets and compartments, this case has enough space for basic makeup kit as well as for hygiene accessories. For example, you can place your toothbrush and toothpaste, along with your roll-on, hand crème, and makeup. However, if you need to carry large brushes, body lotion, or jewelry, well, this case would be too small. Compared to the previous model, this one is much smaller.
But, unlike first cosmetic case, this one comes with a hanging hook. This makes finding what you need a whole lot easier and faster. Just hang the case on the bathroom door, and voila – everything you need will be a glance away.
Costing less than $18, this case provides a great value for the money. Especially when taken into account its durable design. Made of premium nylon and cotton cushion, this unit is both durable and lightweight. Thanks to that, this is one of the best travel cosmetic cases.
So, buy this one before you go to your dream destination.
Pros:
Durable
Affordable
Ideal for basic items
Cute design
Lightweight
Can be hung on the door
Cons:
Ac.y.c Hanging Toiletry Bag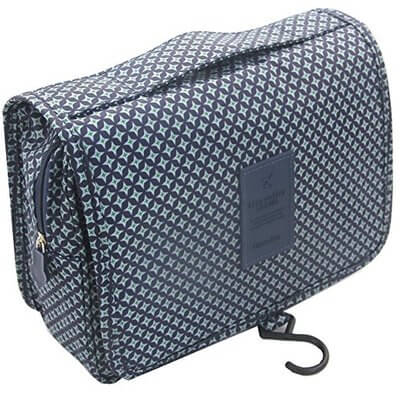 Coming in a variety of designs and colors, this cosmetic makeup case is the most beautiful on this list. So, if you want to have a fancy makeup case, this is the way to go.
Compared to previous models, this one is least durable. It's made of cheaper materials, so it may not be a good choice for items that can spill. Even though the description says this is a water-resistant case, I wouldn't bet on it.
However, it does have an Anti-bacterial inner lining for keeping your items protected and clean.
In addition, this case is the smallest one on the list. But, it's big enough for your toiletries and basic makeup. It has multiple compartments, which gives you different types of storage. That way, space is maximized.
With a durable hook, you can hang the bag in your hotel room or even a tent and save some space. Taking all this into account and a low price, this toiletry bag is a great choice for travel, if you don't need much space.
Pros:
Beautiful and stylish design
Only for basic toiletries and makeup items
Comes with a durable hook
Saves space
Most affordable option
Cons:
Not water resistant
Too small
The Final Thought
Well, there you have it, my ladies. Now you can choose the best cosmetic case for your needs and look perfect wherever you go.
Written By Kate Mark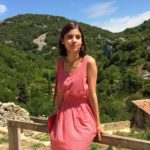 Kate is a mid-lifer who quit a growing corporate career to reawaken her passions and her lifelong dream of traveling the world.