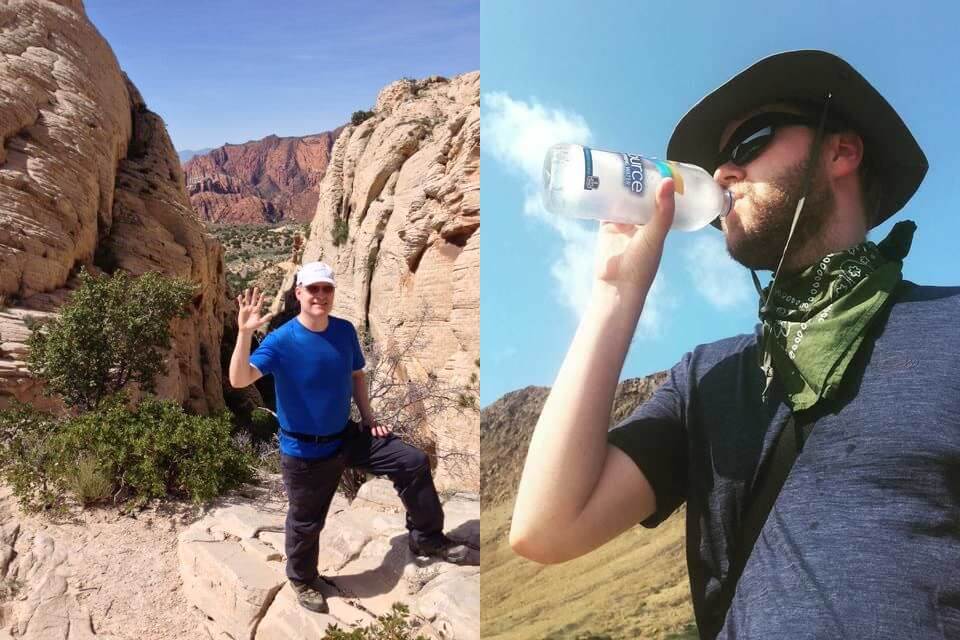 Choosing the Best Travel Shirt for Men in 2022
Traveling to faraway lands or even somewhere nearby requires a lot of preparation. That mostly includes packing. As a rule, we like to keep our things nice and compact but always feel as if we need to carry everything in our home because we're convinced a scenario where we need something we haven't packed will occur.
This is especially true for clothes. In order to avoid clutter and have a better vacation, whilst still having everything you need with you, travel shirts have been invented. To find out more about what to pay attention to when buying them, read the article below.
How to choose a Travel Shirt?
Materials
Smart packing includes materials which are easy to wash, durable, and comfortable.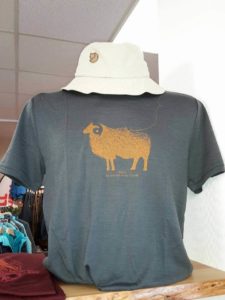 Polyester - One of the most common materials you will find your shirts are made of. A polyester shirt is a good choice for a travel shirt because polyester is resistant to wrinkling. As far as stains are concerned, polyester might not repel them completely, but they are easier to get rid of. Furthermore, shirts made from this material dry quicker, are more lightweight and are the most durable.
Merino - Much as polyester, shirts made from merino are not going to wrinkle. Merino's biggest virtue is its ability to retain the temperature. This makes it perfect for any weather. Simply put, when you're hot- merino will keep you cool and when you're cold- it will warm you up. What's more, it doesn't absorb stains and naturally attracts less lint and dust.
Synthetic - These kinds of shirts are good if you tend to spill things on yourself often. They do not retain stains as fast and allow you to clean them before they're ruined. If you're going somewhere where it can get hot, avoid this fabric as it does not breathe well and will leave you feeling hot and bothered.
Style
If you want to avoid being one of those stereotypical tourists, the best thing to do is dress simply. Ever heard of the saying- more is less? Well, it's true.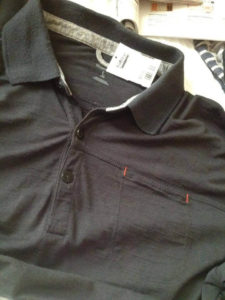 You should not tend to buy shirts with big pockets or logos, as they look more tacky than stylish.
Keep in mind that some cultures are different than other and that some things aren't acceptable. That's why a safe bet is a long-sleeved shirt that doesn't grab much attention but still, allows you to look sharp.
That being said, don't go out of your way to compromise comfort just so you can look cool. Because wearing uncomfortable clothing has its drawbacks. You'll sweat more, itch more, and feel worse overall, which will make you look anything but cool, and that will leave the whole mission of looking sharp pointless. The best thing to do is find a golden middle between comfortable and stylish.
As far as color is concerned, it's advisable to pack only neutral colors. As well as being less offensive to some cultures and tacky in general, they will give you more opportunities to combine them with different pants and shoes for various events.
How to choose a Shirt
There are a few segments of your shirt you should pay attention to:
Collar - Each shirt you buy should have a collar which can be rolled up as this protects your neck from the sun.
Sleeves - A sleeveless shirt might look appealing, but isn't very functional, no matter how much you think it will keep you cooler than a long sleeved one. Long-sleeved shirts are definitely the most advisable choice because they protect your arms from the sun and wandering insects. Also, if you get too hot, you can always roll up your sleeves
Pockets - These are left up to your personal preference but are handy to have. Some shirts even feature hidden pockets which can be used to place your valuables. This way, you always know where they are. If the pockets are at an uncomfortable place, it can get impractical, so be sure to check that in advance. Also, if you're keen on pockets, look for those which can be zippered instead of buttoned for better protection of your things.
Fit
Keep in mind that travel clothing offers fewer options for fitting than the regular one. Nonetheless, you can still find your perfect fit, just need to go another way around it.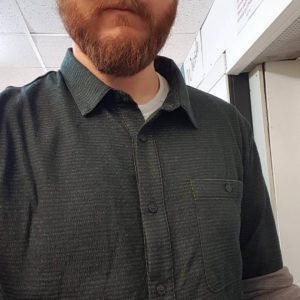 To ensure the collar isn't too tight or too lose, try buttoning it up completely and putting two fingers. If your fingers fit comfortably yet do not dangle outside your shirt, the fit is right.
The line on the shirt which connects the sleeve to the collar should lie comfortably on your shoulder without scrunching up or dragging down.
As far as your torso is concerned, it shouldn't be too tight or too lose. You can easily tell when the fit is right by how the buttons sit.
When cuffing your sleeve at your wrist, the rest of it should flow elegantly down your arms. If the cufflink rides up or slumps down, the fit is not right. Also, your hand should have enough space to breathe when cuffed.
Finally, the shirt shouldn't be so long to cover your behind or so short to expose your back when you move.
Brands
Icebreaker- This company harvests fibers nature has designed to be sustainable. For example, merino sheep don't freeze during their weather and so they use merino to produce high-quality shirts.
Check Out Icebreaker Tech Lite Shirt
Uniqlo-A company with long tradition, making its shirts from textiles. They're always focused on quality and are sure not to let you down.
ExOffico - They focus on everything- bug protection, sun protection, extra pockets, and odor resistance, among other things. A more frequent traveler's companion.
Conclusion
Having read this article, you now have a clearer grip on why it's important to own and buy travel shirts. They don't only save much-needed space but also protect you from various things and have you ready for any occasion. A true companion, not to be underestimated. Enjoy your next trip and as always – stay safe!
Links
Written By Noah Smith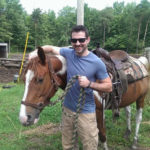 Noah is a freelance writer who has traveled over 32 countries so far. Onebagger is the place where he shares trip details, travel itineraries, planning and booking tips and travel tales. His aim- to help you plan your travel adventure on your terms, choose best travel gear and to your budget.