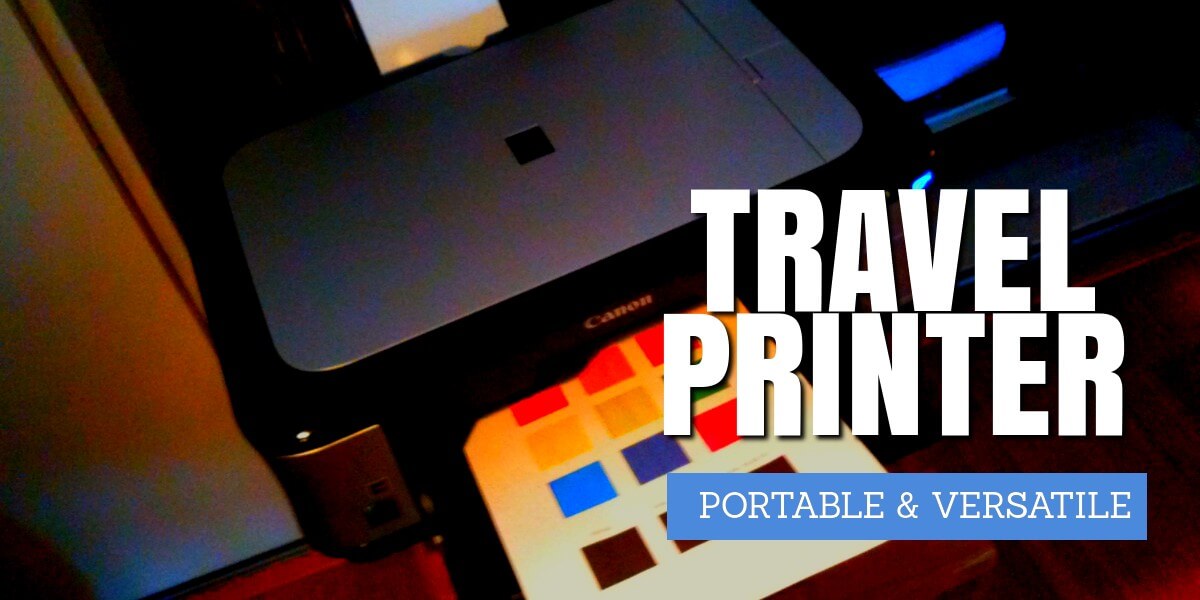 Finding the Best Travel Printer in the Market Today in 2022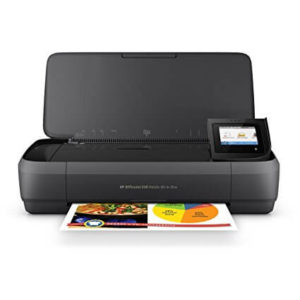 Printers are great to have, especially if you're always on the go. You can place it in your car, or in your suitcase if you're traveling by train or bus. Then, when you need to print some documents or photos, you can do that in a blink of an eye, saving money and time. Printers are also a great addition if you love printing inspirational messages to brighten your day no matter where you are.
Whether you're a student, a photographer, an entrepreneur or just someone who loves having the benefits of a printer by their side, this article is for you. Today, I'll talk about how to choose the best portable printer for your needs, so keep reading.
How to choose a travel printer?
Of course, choosing a good printer isn't an easy task, especially if you don't know anything about printers. But, don't worry, I'm here for you. Below you'll learn what to focus on when choosing a good travel printer.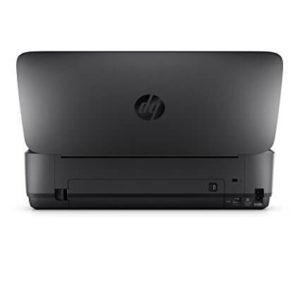 Types of printers
Clearly, the first thing to think about is what type of a printer you need. There are laser printers, inkjet printers, photo printers and 3D printers, each one of them offering many benefits.
Inkjet printers
These are very versatile since they can print on an array of paper types and sizes, including business envelopes, scrapbooking paper, labels, etc. Even though these printers deliver high-quality results, they aren't the best ones when it comes to printing speed.
Laser printers
These are built with efficiency in mind. These printers can print large volumes very fast, allowing you to save money.
Photo printers
These deliver high-quality photos that are on a par with professional printing services. What's more, you'll pay less. A photo printer print photos immediately, which is its greatest benefit. You can use PictBridge to send the photos from your camera directly to the printer.
3D printers
As the name implies, these printers print in 3D, delivering top-notch printout. If you're creative, and you're constantly doing some projects, you will definitely love using a 3D printer.
Versatility
Best portable printers are versatile. Meaning, these are all-in-one devices that allow you to scan, print, and copy with ease. So, if you're looking or the best-value-for-the-money travel printer, this is a way to go.
Paper size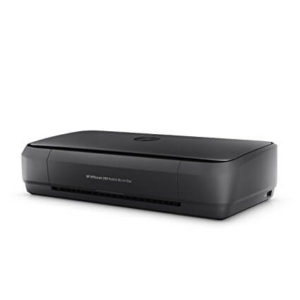 What paper size are you going to print and scan? If you don't know, I suggest you buy a printer that supports different paper sizes such as a letter, statement, legal, envelopes, and executive. That way, you can print what you want.
Battery
The next thing to keep in mind is the battery life. Some higher-end models will hold the battery for quite a time, so you can do all the work without interruptions. However, don't forget that you also need a battery that charges quickly.
Mobile printing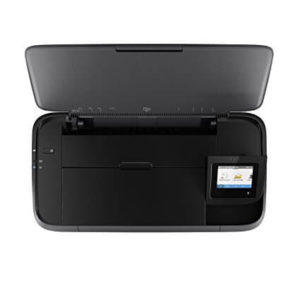 Mobile printing is a very useful thing, especially if you're a student. Thanks to this feature, you can connect your smartphone or tablet to the printer and print from anywhere. Doesn't that sound practical?
Size
Well, since here we're talking about Portable printers, you definitely want to take the weight and size into account. Obviously, your printer should be relatively easy to move around so you can take it with you.
And for the record, a smaller printer doesn't necessarily mean lower quality.
Duplexing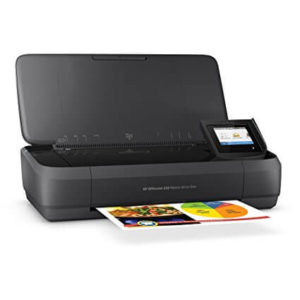 Another handy feature that your travel printer should have is the ability to print on both sides. Not only will you save your time, but you will also save your money.
Touch-screen LCD display
If you're after simplicity, choose a printer with a touch-screen display. That way, you'll easily and quickly print your papers. Touch-screen displays are easy to use, and they quickly input data.
Card reader
Another handy feature that a travel printer should have is a built-in memory card reader. This kind of a reader will support different formats such as Secure Digital and Memory Stick Duo. Because of that, you will have quick and easy access to your photos and you won't even have to use a computer.
Best travel printer – HP OfficeJet 250 All-in-One Portable Printer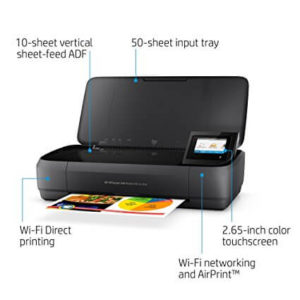 The HP OfficeJet 250 is without a doubt, the best travel printer. This all-in-one printer is all you need while on the go. With this little guy, you will print and scan documents with ease.
In addition, it has a mobile printing function, so you can connect your phone to the printer, without having to struggle with connecting the printer to your computer.
As I mentioned, a good printer has a long-lasting battery, and that's exactly what this printer has. Also, the battery charges in less than 2 hours.
With a 2.65 inches color touchscreen, setting up this unit is a breeze, as well as using it. No need to worry if you've never before used a printer with a touchscreen display because this one is created with simplicity in mind.
The printer supports the following paper sizes: No. 10, Monarch, 6 3/4 in, 3x5 in, 4x6 in, 5x8 in, 8x10 in, 5x7 in, 4x6 in, 3.5x5 in, making it a versatile choice.
On top of all, the printer is easy to transport and comes with a durable housing. You can slide it in your backpack, or put it in your car, and always be ready.
With a 1 year limited warranty, you don't have to worry about the quality if this unit.
Print Anywhere Anytime
A good portable printer such as the OfficeJet 250, gives you the convenience of printing anywhere, so make a wise investment. Moreover, a good printer will last you for years to come, so it definitely pays off in the long run.
Written By Noah Smith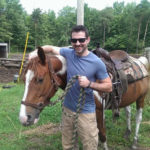 Noah is a freelance writer who has traveled over 32 countries so far. Onebagger is the place where he shares trip details, travel itineraries, planning and booking tips and travel tales. His aim- to help you plan your travel adventure on your terms, choose best travel gear and to your budget.